Change the Appearance of your Navigation Bars
Change the look and functionality of your navigation bar(s) with the click of a button!

1. From the WordPress dashboard, navigate to Appearance > Customize
2. In the preview sidebar on the left, select the Menus section
3. Select the menu that you would like to display.
4. Under the section labeled Menu Locations you can check off every section of the page you would like that menu to appear, whether that's the Primary Menu, Top Navigation, Footer Navigation, etc. In the screenshot below you can see that the website being customized only has a Top Navigation and a Primary Navigation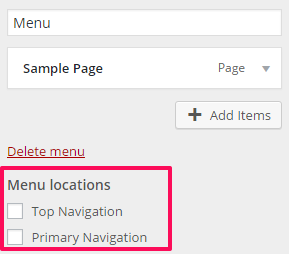 5. When you have finished, click Save & Publish at the top of the preview sidebar
Show or Hide the Primary Menu
1. From the WordPress dashboard, navigate to Appearance > Theme Options
2. Under the General tab, locate the Show or Hide Elements section
3. Find the Show or Hide Primary Menu option

4. Click the switch to either Show or Hide the Primary Menu
5. When you have finished, click Save Options at the bottom of the page