A multipurpose theme with a beautiful website building experience.

Baton theme is a multipurpose
WordPress theme for the modern business or startup looking to make a bold & beautiful statement on the web.
It's flexible, feature packed, and built the WordPress way. You're not going to get a bloated theme with options that get in the way. Instead, Baton was built to be intuitive and purposeful for the web designer that is looking for a well-built theme.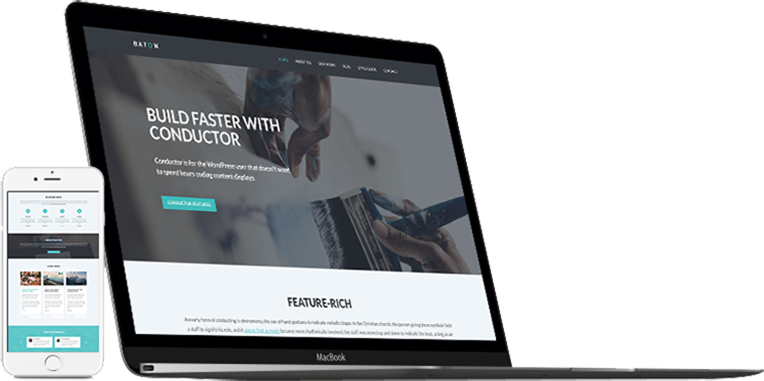 Baton's Drag-n-Drop Homepage

Native WordPress customizer

Use widgets for content blocks

Live front-end editing experience
Additional benefits, features, and add-ons
The following content is published on our Baton demo site.

Build a homepage in minutes
Baton Pro will allow you to build a homepage that you desire within minutes -- not days.

Customize without code
Changing colors, font-sizes, and layout is a breeze in Baton Pro. You don't have to be a developer. 

Flexible for any project
Baton Pro uses our Symphony starter theme at its core. This means it has flexible layout options.

A future proof theme
Baton Pro is fully compatible with our Conductor plugin. As we add more features to Conductor, Baton Pro receives the same benefits and unique content design displays we roll out. 

Drag-and-drop-homepage
Baton Pro really shines when you leverage the live-editing and custom layouts of our Note plugin for your homepage layout. 

Customize fonts and colors
Baton Pro allows you to customize your WordPress website through the powerful front-end customizer.
This entry was posted in