If you were looking for a theme as big as the ideas you have for your website, then the wait is over. Epic is a theme that features a bold title, even bolder colors, and centered content that looks good on any device. Find out all that you get when you upgrade to our pro theme!
Customize your Colors!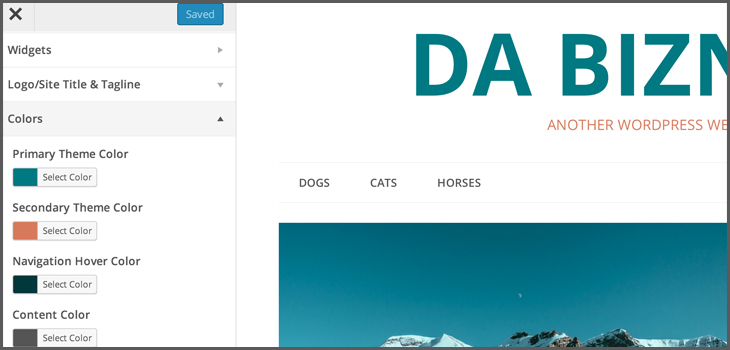 In the free version of Journal, there are no color options, save the ability to adjust the color of the main content using the customizer. With the Pro Version of the theme, you can go to Appearance > Customize and tweak colors to match whatever feel you would like. Here are the colors you can customize:
Primary Theme Color
Secondary theme color
Navigation Hover
Content Color
Link Color
Background Color
Additionally, you are also given numerous full color schemes to choose from, right from the Theme Options panel.

Customize the Branding / Edit Copyright Info
With Epic Pro, you can upload a logo as well as change the text of the copyright area. All of these elements are easy to find in our theme options panel. The logo will replace the business text on the top of the page, so your brand identity is the first element that people see.
Do you want to remove our pesky name from the bottom of the website? You can do that with Epic Pro, by navigating to the bottom of the Appearance > Theme Options > General tab.
Showing and Hiding content
More options are able to be hidden. And, with our one-click child themes, you can learn to hide specific pieces of content that you want to hide using the power of CSS! With Epic Pro by default, you can show/hide:
Site Tagline
Category Archive Titles
Post Meta (the extra stuff after the post)
Author details
Support for Gravity Forms
Epic Pro comes with support for Gravity Forms. With one line of code, it is easy to style a Gravity Form to look like the rest of your site. This means that the colors and fonts of your website will be mimicked when you create a Gravity Form (for contact) and place a form within your site. Gravity Forms is the most popular contact and request form plugin on WordPress.
Once you have purchased the theme, our team would be more than happy to provide you with the simple resources to create the proper styling.
Custom Scripts and Styles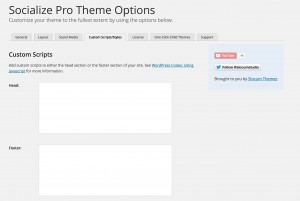 Custom scripts and styles are also supported with our Pro Themes. If you are more code savvy, this means that you can easily add scripts to the header and footer of your website, right from within the WordPress back-end.
This allows you to add Google web code snippets and other scripts to enhance your website.
Additionally, you can also add custom CSS styles on the same page with the Custom Styles section, directly below the custom scripts.
Developers and designers rejoice!
Adjust Featured Image Sizes
Featured image sizes are also easily adjustable. Pick from different options depending on the Pro theme you have downloaded and other featured image sizes provided by the plugins you have installed!
Social Media Widget
With the special social media widget, you can place widget into the widget area of the theme that will allow you to display your social media links for people to visit.
You can enter you social media simply through our Theme Options panel on the back-end.
Support
We provide support and help to clients in need. You get a full year of support included with your purchase of the theme and we do our absolute best to help! Support is handled with a ticket system. You will get a response within one business day at the very latest.
We promise.
Documentation
We also have documentation available upon request to create all of this great stuff, as well as links and helpful resources to tap into internal and external functionality of your theme. Talk to us!