Jack went to the liquor store to get drinks and mixers. Mary went to the grocery store and prepared some hors d'oeuvres. Their friend Scott was coming over with DJ equipment and a smoke machine to enhance the mood. The occasion? It's Carrie's birthday, and she wanted someone to throw a party for her.
The party by all accounts sounds like it is going to rock. Instead, it is about to crumble.
You see, the group of people we just mentioned forgot to choose someone to host the thing!
It was a nightmare.
The food went everywhere. The smoke machine was so old that it backfired and blew a fuse in the house. Attendees got upset. With nobody to manage the party and maintain everything — without the right host — problems occurred.
Without the proper WordPress website host, your website can follow the SAME PATTERN.
Follow this guide so you don't end up like Jack, Mary, Scott, Carrie, or their Uncle Joe.
Which party are you in?
Jack: The Hands-off WordPress Reseller
If you are someone who is building a lot of sites and likes the idea of the instant, easy solution, you really want to include Flywheel.

Flywheel is a relatively new WordPress hosting company, but it is making a BIG splash in the space. It is because Flywheel has more affordable pricing plans than direct competitors like WPEngine and an easier to use customer experience.
The biggest gimmick of the Flywheel experience has to be the easy migration. Flywheel makes a point to provide an easy transition over for new website accounts. Flywheel takes any content (even content from a staging server) and migrates it over to their channels.
If you resell WordPress solutions and want a good website host, trust that they will do a good job and take the work load off of your hands. And they are fairly affordable for a business client.
Their support rocks too (at least in our experience).
Mary: The Do-it-Yourself-er
Maybe you are a developer who wants more control over your hosting experience, like Mary.
You would rather pay less, but have easier and better control over your hosting experience. Maybe you have special tech or have a specific server install in mind.

One of our favorite options here is Digital Ocean. They offer competitive rates and allow you to customize your WordPress install.
There are a wealth of very helpful tutorials to setting up your website on WordPress and setting up SSH keys, MySQL servers, and the like. (If this stuff is going over your head, that's okay. Take a look at some of the other solutions in this article.)
Alternatively, they also offer a one-click WordPress server install if that is more your speed. Digital Ocean is definitely on the more technical side.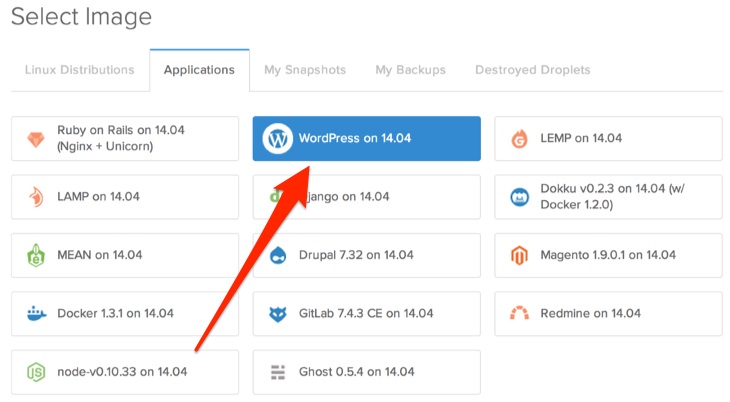 Looking for a tutorial on how to set up an initial install? There is a tutorial here you can use for an easier install.
Scott: The Technical Dude
Similar to the "Do-it-Yourselfer" above, some websites have custom configurations that require specific technology to be implemented to make the site work properly.
We would also recommend something like Digital Ocean in this case, or another solution that requires more custom input.
Services that are more automated and designed for speed on their server load will employ processes like caching to protect their servers. In cases like WPEngine and Flywheel, the experience is so heavily controlled by the host that it can be difficult and sometimes impossible for your website to function correctly, if it has lots of code and extra technology.
If you are a basic blog or business landing website, you shouldn't need to worry. You can always reach out to your ideal host if you have technical concerns. We have never had an issue getting honest responses from all of the hosts we have contacted with more questions.
If you are not going to be the right fit, you are not going to be the right fit.
Carrie: The "I don't have time to decide" business owner
If you are business owner who has website and simply wants to get it hosted somewhere easy to maintain, a service like WPEngine might be a good option. This option is more pricey, but comes with peace of mind. The company has been around for a long time and uses tools to maximize the page load speed and server time on their end.

This makes for a controlled yet accessible customer experience.
WordPress Support
As an aside, if you are a business owner with no web experience looking for support on your themes, there are a couple of options you have available to you.

If keeping your website maintained and updated is important to you (it should be), WP Site Care is a great, affordable service you can use in tandem with your host to keep your WordPress plugins updated and content technically optimized on the site.
Looking for consultative support with your SEO and marketing plans? While a bit more expensive, the EmbraceWP service allows you to consult with a team of WordPress professionals to keep your website updated while adding smaller pieces to the website and working towards marketing efforts.

Uncle Joe: Misinformed first-timer
Joe never made it to the party.
He chose GoDaddy, the common website host and one with a host of problems. From unresponsive staff to issues with hosting of the website and an intentionally convoluted interface, you are better off looking at more expensive yet better options.

If you need to host a website cheaply, you would at least want to look at Bluehost. Bluehost has none of the trappings of the other hosts on this list, but it is more optimized for WordPress than something like GoDaddy.
Dedicated WordPress Hosting versus Shared WordPress hosting
If you were wondering what the difference was between dedicated hosting and shared hosting, the answer is simple.
Dedicated hosting is going to be the more expensive option as it gives you access to your own private IP. This makes it easier to manage and less prone to attacks or timeout issues.
With shared hosting, you are quite literally share the "party" with other people in the same space. If one of the other sites decides to invite a bunch of friends or some rabble-rousers, your site could be at risk with capacity issues or other attacks.
Before you choose a host, make sure to ask your preferred host what they offer for dedicated or shared hosting options. Hint: The more expensive option is usually dedicated.
Choose the right WordPress host for your business or blog
Recapping the hosts, here are the base options you have available to you:
Flywheel
WPEngine
Digital Ocean
Bluehost
If you have questions about managing or hosting your WordPress website, place them in the comments below. We would be happy to guide you to the right place.
If you have any other suggestions, post them below too!
Need help with your online brand? Contact us!