Expenses stink. As a business owner, who may need help from sites such as winrightlaw.com, or digital agency, you know this better than a lot of people. So when you get out your wallet, you want to make sure that what you are getting with your money is worth the price.
All of these principles hold true when shopping for WordPress themes. Allow this resource to convince you why Modern Business Pro is the best WordPress business theme on the market and why it is well worth your money.
Widgets and Widget Areas
The whole concept of what makes Modern Business Pro great (and why you probably clicked here) is the demo website that we have created. Big landing spaces and easy to find text areas and call-to-actions are displayed in the proper places to maximize the reach of your brand.
To accomplish this, Modern Business Pro employs widgets and widget areas, so the experience is comfortable with other WordPress experiences you may have had. There are three widgets in particular.
Modern Business – Address
Displaying your address stylishly is paramount to getting people to contact your brick and mortar business. Thankfully, Modern Business Pro has an option to display your address at the very top of your page. This is a widget called Modern Business – Address that allows you to type in your business address and phone number to display it in our Header Call to Action Area.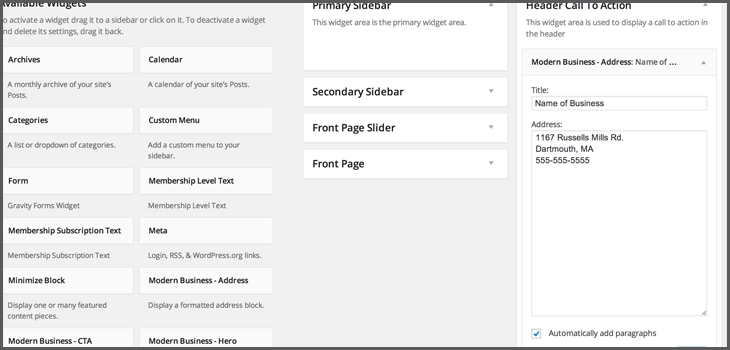 Modern Business – Hero
The hero space is your opportunity to type in the mission and vision of your brand in a way that is easily recognizable and visible to the client. This allows for a two column layout.

Modern Business – CTA
The CTA is a giant button on the website that allows you to enter HTML code to link to a major landing page on your site. The color of this giant button matches the color you select for your website.
Make your website a landing page
If you have been inspired to make your website look like a big landing space, we have some functionality in store to make Modern Business Pro mimic the look of other landing sites.
With the ability to share and hide various content, including the primary navigation bar on Modern Business Pro, you can add and remove a lot of pieces of content. Combined with the widget areas mentioned before, you can make your website look very different from a normal WordPress theme and more like a landing space.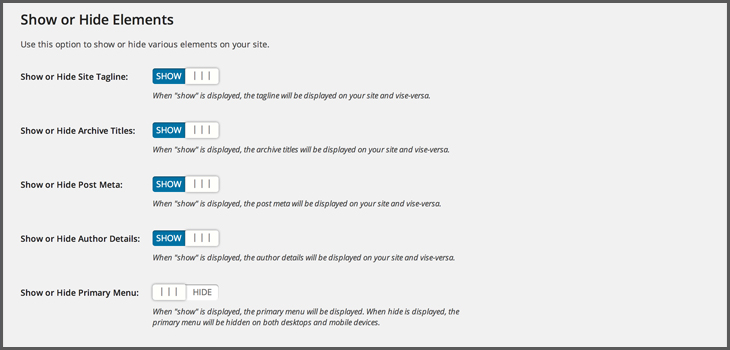 You can also tap into our Front Page Slider widget area with popular slider plugins like Soliloquy Pro or SlideDeck 2 to allow you to place large sliders right within the content of the site.
Services Custom Post Type
Modern Business Pro also gets you a built-in custom post type to tell people about the services and products you offer.
Combined with content layouts, you are able to create separate archive pages, custom-tailored to display the services that you offer. Content layouts with Modern Business Pro also support individual categories, so if you want a category archive of all of your posts about your "Dog Food" category to have a sidebar on the left side of the screen or no sidebar at all, YOU CAN MAKE THAT HAPPEN.
Features of our Pro WordPress themes
Custom Branding
With Modern Business Pro, you can upload a logo as well as change the text of the copyright area. All of these elements are easy to find in our theme options panel. The logo will replace the business text on the top of the page, so your brand identity is the first element that people see.
Do you want to remove our pesky name from the bottom of the website? You can do that with Modern Business Pro, by navigating to the bottom of the Appearance > Theme Options > General tab.
Colors and Fonts
Our themes now tap into the customizer, so with the pro version of Modern Business Pro, you get a good deal of options to tweak your color in a very custom way. Just go to Appearance > Customize with Modern Business Pro installed for this functionality!
Additionally, Modern Business Pro also gives you more options for beautiful default colors and default fonts, so make sure to check them out in the Theme Options section.
Showing and Hiding content
Primary Navigation bar, sub menu items, and more options are able to be hidden. And, with our one-click child themes, you can learn to hide specific pieces of content that you want to hide using the power of CSS!
Support for Gravity forms and WooCommerce
Modern Business Pro as well as some of our other themes come with support for Gravity Forms and WooCommerce. With one line of text, it is easy to style a Gravity Form to look like the rest of your site. Even simpler, with WooCommerce integration, built-in WooCommerce features like product pages will be automatically styled to look like the rest of your Modern Business Pro website. You can check out our E-Commerce Theme Demo for Modern Business Pro to see how this works.
Custom Scripts and Styles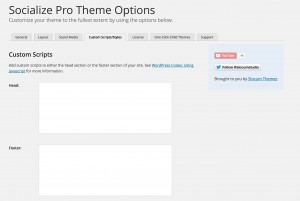 Custom scripts and styles are also supported with our Pro Themes. If you are more code savvy, this means that you can easily add scripts to the header and footer of your website, right from within the WordPress back-end.
This allows you to add Google web code snippets and other scripts to enhance your website.
Additionally, you can also add custom CSS styles on the same page with the Custom Styles section, directly below the custom scripts.
Developers and designers rejoice!
Adjust Featured Image Sizes
Featured image sizes are also easily adjustable. Pick from different options depending on the Pro theme you have downloaded and other featured image sizes provided by the plugins you have installed!
Support
We provide support and help to clients in need. You get a full year of support included with your purchase of the theme and we do our absolute best to help! Support is handled with a ticket system. You will get a response within one business day at the very latest. We promise. Here is what our theme customers are tweeting!
An enormous THANK YOU to @SlocumStudio for all the website help! @CDGlocal892

— Genevieve Tyrrell (@genevievetyr) July 31, 2014
Documentation
We also have documentation available upon request to create all of this great stuff, as well as links and helpful resources to tap into internal and external functionality of your theme. Talk to us!