At Slocum Themes, we are proud of our work and like the feeling that we get when we look at a website and it reads, "Designed by Slocum Studio". That is our signature and it is there to give us credit to those who are using our themes for FREE. But, that being said, this post,  Remove Copyright from the Footer of a WordPress Website will help if you wish to remove the copyright from the footer.
Whether you use our themes or other agency's themes, you might want to hide the copyright as it might interfere with a client project or you might want to put other content in its place.
For most personal blogs, hiding or removing the WordPress branding is not high on the priority list. For corporations and small businesses, having a website complete with their own brand logo is highly sought after. Having your website branded with the company or corporation logo presents a more polished site to the consumer.
While WordPress themes will be designed differently, you can follow some typical patterns to hide or delete the content output in the Copyright area of your WordPress website. Did you choose a theme that doesn't give you the opportunity to remove or add your own footer? Branda, a branding plugin, permits the user to rearrange their footer without having to change any code. This plugin is divided into 5 separate departments; Administrative Area, Front End, Widgets, Utilities, and Email. The administrative area is where the plugin holds its settings for footers as well as headers.
Worried removing the WordPress footer and or heading might get you into trouble? No need to worry, it's all legal and encouraged! WordPress is a free operation that is licensed under GPL (general public licenses), meaning anyone who downloads a WordPress theme is allowed to rearrange the characteristics of the theme to their personal needs.
Where is the copyright branding?
At Slocum Studio, we try to be as discreet as possible with our branding.
Our signature is at the bottom of the page in the footer, as is the case with many themes and websites. We are so discreet that we have made it easy to remove for our loyal supporters. On most themes, a designated footer or copyright area will exist to display this sort of content.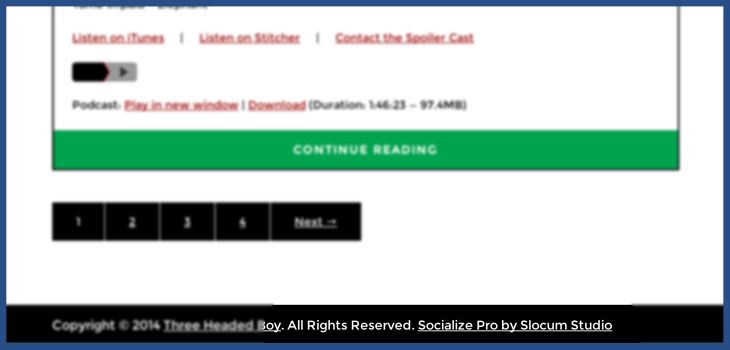 For coding purposes, this will manifest itself in a PHP file with a name most likely tied to footer.php or something similar.
You can access these template files from the WordPress Appearance > Editor or from the wp-content folder of your FTP.
How to remove the copyright from a WordPress theme
Typically, to remove the copyright from a theme, you need to play with PHP coding on WordPress.
After installing a child theme based on the existing theme, you will need to set a new value in the footer.php file or other file (depending on the theme) to remove the copyright text from the footer PHP or to change it. Typically, you can just "comment out" the PHP by adding the // text before the add action that triggers the displaying of the copyright and branding.
If you are comfortable with PHP, you should be able to find where the call is, given these directions and be able to make modifications on your child theme and with your FTP.
How to remove the copyright from our themes
Thankfully, if you own the pro version of our themes and are not comfortable with all of these changes to PHP, we have made it easier than ever to change or completely remove the copyright from your WordPress website.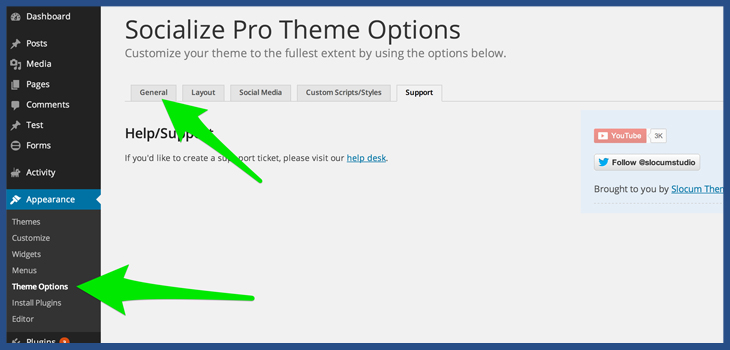 All you need to do is navigate to the expansive Theme Options section of our themes in the WordPress dashboard. This can be found by navigating to Appearance > Theme Options while a pro theme is an active theme on the website.
From there, you can go to the General tab and scroll to the portion of the options that cover the Footer.
Appearance > Customize
Footer > Bottom Bar
Disable Footer Credits or Edit Footer Credit and add your personalized footer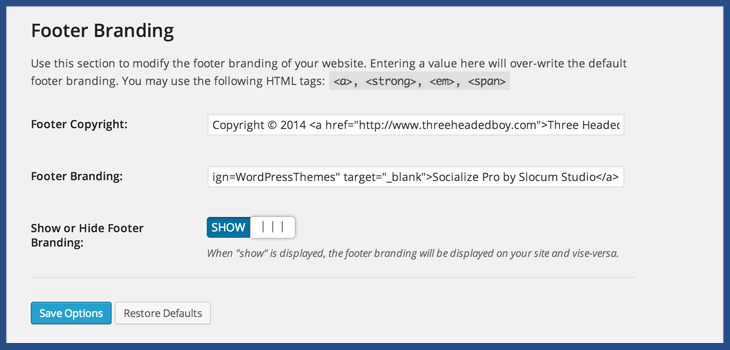 With our theme options, you can outright delete the html code we have in the Footer Branding area or simply hide it for now, with the option to show it later.
Add your copyright to the footer of your website
You can even add YOUR OWN COPYRIGHT to make it your own by navigating to that section. We provide helpful tips to slightly change the look if you are not comfortable with extensive linking and HTML.
As an example, you could create a Copyright that says "Copyright X Company 2014" and then set the branding to "Your Company Here Design", complete with LINKS!
Make sure to save your changes!!
By backing up your website before making any permanent changes helps you recover the progress already completed if something were to go awry.
Here is another post you may be interested in How to Adjust the size of a Featured on WordPress
Themes that support the removal of the copyright footer: