In a recent article, we looked at must have plugins when you have a fresh install of WordPress. One of the honorable mentions in the list should have been SEO plugins.
WordPress SEO plugins are great because they automate SOME of the more troubling processes when setting up a new website. A lot of the metadata that would otherwise have to be taken care of manually is done for you with a plugin. If you're having difficulties with your SEO, you should consider hiring a Thailand SEO company to help you.
Better yet, the plugins in this article are all free to download and they all tackle different markets, from a new small business all the way to a basic web blog.
All-in-One SEO Pack
Developed by: Semper Fi Web Design
For the WordPress beginner, All-in-One SEO Pack is the best option.
It is extremely limited in its function, but, for getting your website up and running and tackling some of the macro subjects of practiced SEO, this is a great plugin.
This is also a great place to learn about SEO — though not nearly as good as our web shows 😉 — because it features gigantic question marks next to each item you can tweak. Clicking the question mark provides you with an understanding of that item and what it accomplishes.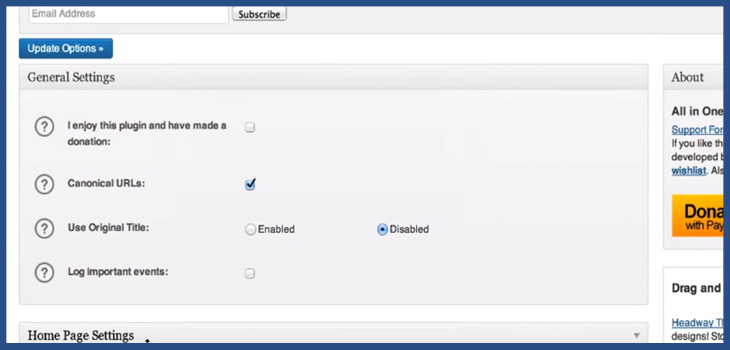 Some of the other plugins provide more in-post and general micro-SEO support than All-in-One, so if you are a bit more advanced with SEO and don't need a starting tutorial, you may want to look into another plugin.
Edit) Beware: All-in-One SEO malware attack
Apparently, All-in-One SEO Pack can be a bit insecure, compared to the other plugins. There have been malware attacks to Semper Fi that have resulted in spam emails with bad links.
Use your best judgment when downloading the free version of the plugin and do not upgrade to any pro version without consulting someone first.
WordPress SEO by Yoast
Developed by Joost de Valk
While we direct some of our clients to use All-in-One SEO, for the most part, the plugin we recommend for SEO is WordPress SEO by Yoast. The plugin has a great workflow that explains its content all while providing EXTRA feedback.
One feature that is very cool is the ability to import or export WordPress metadata with the plugin, so that you can take information directly from a plugin like All-in-SEO Pack and move it right into WordPress SEO by Yoast. Let's say you start with All-in-One SEO Pack and decide that it no longer accomplishes everything you need. You can simply use the tool in SEO by Yoast to migrate the special data you had created in All-in-One over to the new plugin.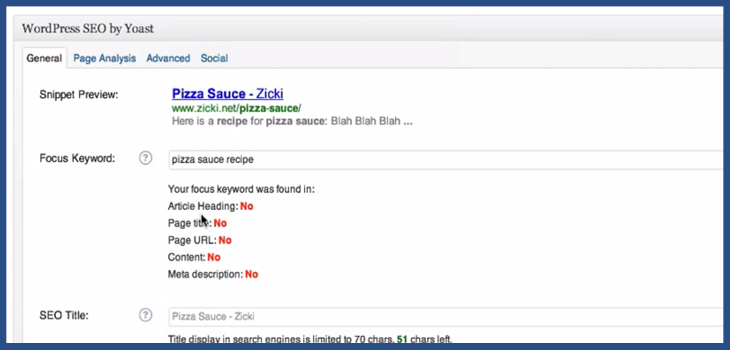 By far our favorite feature of WordPress SEO by Yoast is the "focus keyword" feature, built into the post and page creation.
How to Use the Focus Keyword tool
What you do with focus keyword is place the keyword you want to hit for in an individual post. We recommend going for a longer keyword or long tail keyword here because that is what will help you rank going forward.
Once you have placed the keyword, WordPress SEO by Yoast will scan your page or post for that keyword. If we wanted to rank for "Best WordPress Design Studio", we would input that string in the form, and then we would type that where it fit, including the title of the post, in headers, in image alt tags, etc. The plugin will rank the performance of the keyword. You can keep using this for multiple keywords to test effectiveness.
SEO Ultimate
Developed by SEO Design Solutions
SEO Ultimate is the WordPress kitchen sink equivalent of SEO Plugins. Just about any item you would want to edit is here.
It is a very overwhelming plugin for the SEO newbie but refreshing for a hardened veteran.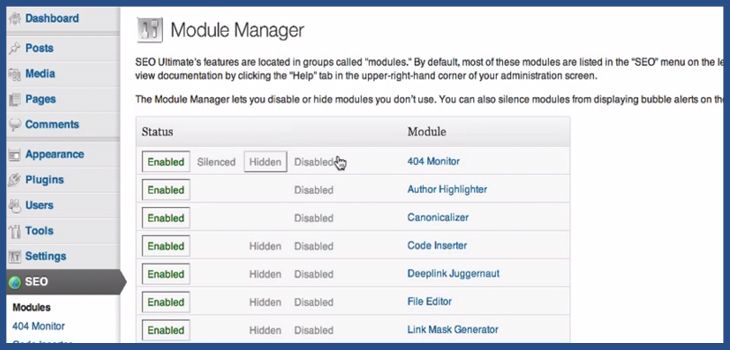 One of my favorite elements of the plugin is the schema it incorporates into the creation of a post or page. If I am a small or large business, I am looking at hiring somebody to manage this plugin and helping here.
For example, if I own a restaurant, I can make a "Contact" page and simply input all of the necessary contact information into the SEO Ultimate box below the main edit section. Information like the address, phone number, reviews, scores, and more will be added to the schema of the website. This will help rank when people do local searches or location-specific searches for products or services you sell.
Note: Schema.org data and metadata will not show up on the actual page or post, you will have to add that manually.
Which WordPress SEO plugin works best for you?
Here is the video version of this discussion from our popular and weekly SEO Lunch series.
If you have more questions or comments about free WordPress SEO plugins, let us know in the comments below.
Thank you for watching and reading! To check out our premium WordPress themes, which are ready for these fantastic SEO plugins, click here.