A long time ago, our team compared two of the most popular plugins available for creating WordPress backups, BackupBuddy and BackWPup.
While we decided they were both great plugins, we never truly taught people how to make a WordPress backup using BackupBuddy or BackWPup.
We start here, with a look at how to create a WordPress backup on BackupBuddy and how and why to migrate the data to another website.
How to get BackupBuddy
Before we can even perform the backup, we will need to retrieve BackupBuddy. It is found on the iThemes website as it is a premium plugin. This plugin does cost money ($80) but it does a really nice job backing up all of your data and it synchronizes with their other web services like the importer, so it has a lot of utility.
BackupBuddy is a good plugin, and while it is premium, it works very well with our premium themes for guaranteed support.
How to create a WordPress backup using BackupBuddy
The first thing you must do similar to any other plugin on WordPress is install BackupBuddy on your website. You can do this by going to the "Plugins" section, selecting "Add New" and then going to the "Upload" section. Select the .zip file from your computer's hard drive and it will upload to your website from there.
Once you have activated the plugin, BackupBuddy displays as its own element on the left sidebar of the WordPress dashboard. All of the options for the use of the plugin are found underneath that tab.
The first thought would be to go to the "Backup" section of BackupBuddy, and you would be right if you thought that.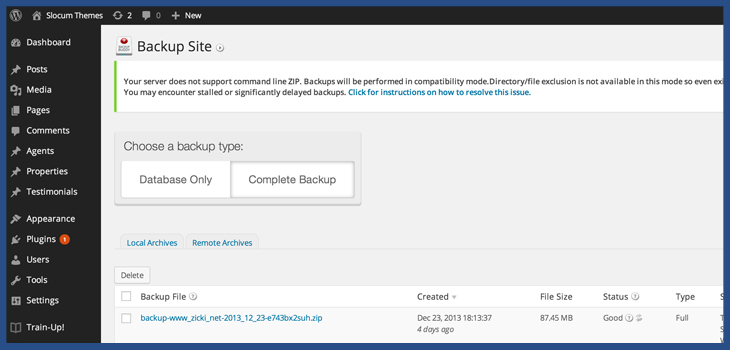 By selecting "Backup" you are taken to a page where you can simply choose to back up the database or the entire website and its contents.
Simply by clicking on one of the large boxes, you are taken to another page where a full backup is made of the website.
It's that simple.
You can then click the "download zip file" button to physically store the backup on your hard drive.
Schedule a WordPress backup with BackupBuddy
More importantly than manually hitting the backup button, you can schedule backups to happen when YOU want them to by clicking on the "Scheduling" button underneath the BackupBuddy section.
This is a very simple page, where you choose how often to back up your WordPress website and where it goes.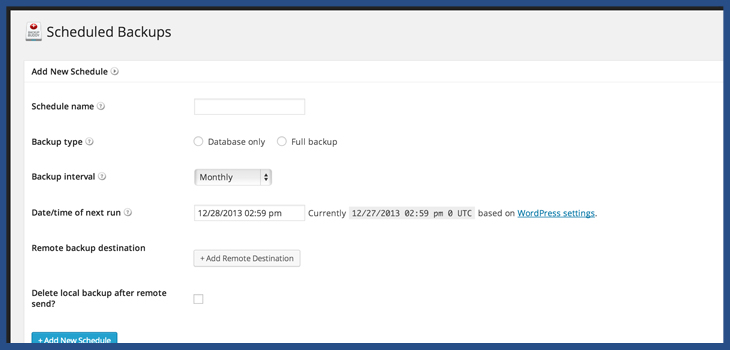 You can have backups happen automatically and then go to Amazon S3 or Dropbox, for example.
Stop website attacks with Sucuri Malware Scanner
The other cool thing about BackupBuddy is that is has a malware scanner, brought to you by Sucuri Security, to help detect attacks before they happen. While WordPress is generally a very secure platform, if you are one who does not update quickly as upgrades to WordPress are released, you may be in a trouble.
Having a malware scanner just adds another level of awesome to this plugin. The benefit of the malware scanner is that you can detect malware before you backup your website. That way you know you always have a secure backup of a secure website.
You don't want to create a backup that is just going to get corrupted again once reinstalled.
How to migrate a WordPress website using BackupBuddy
Migrating content allows for two things. One purpose of migration is to bring a website back to life if it is taken down or otherwise compromised.
The other purpose of the migration of content which is more common is the ability to take content from a local host or test server on a new website and move it to a live site.
How to migrate WordPress to another server
Go to the migrate and restore section of the BackupBuddy section and a new page will appear, displaying a couple of options.
If you are looking to migrate from one server to another or from a local host to another, you would simply use the "automated migration" option.
Click on the "migrate data" link and then choose which server you would like the data to go to on your FTP or local host. You do have to know the credentials like username and password to allow this to work of course.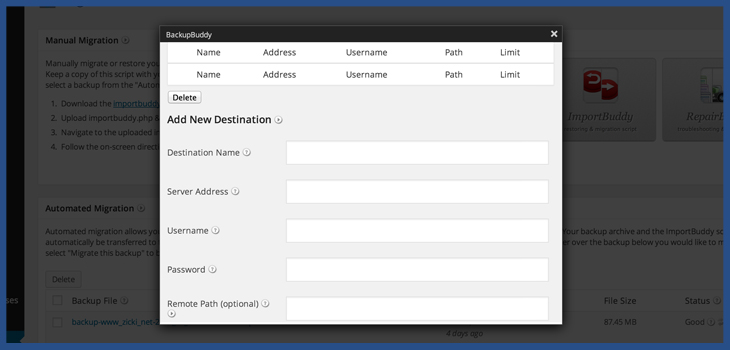 Restoring a WordPress backup to the same website
If you are restoring a WordPress backup to the same website, you cannot use the automated script. You instead have to go manual by downloading the ImportBuddy PHP script.
This requires fancier footwork, but in essence you are uploading your downloaded backup file and the ImportBuddy script to the original FTP and then launching it inside your website.
You will need to create a password for ImportBuddy inside the BackupBuddy settings section before you can actually download the script.
REMEMBER THAT PASSWORD; you will need it.
Watch a video
We also ran a video on how to back up to WordPress using BackupBuddy, which is right here too.
If you want to see more of this great stuff as it is released, do not forget to subscribe to us.
If you have any questions please do not hesitate to comment below. We are a premium WordPress agency here to answer questions and help out our customers.