The Modern Business Pro theme and many WordPress themes are the chassis to the limitless potential of website spoils and paint jobs. It is time to take your site and have it reflect your brand.
Adding your Business Logo
In our work with clients and in running many case studies, we have deduced that visuals sell a product or service more than words (big surprise!). With this in mind, it is recommended to include the logo of your business at the top of the website. Without the logo, a large part of the personality is lost.
With Modern Business Free or Pro, you can upload an image to the website by going to the Appearance > Theme Options section and to the General tab. At the top of this page, you can upload your company's logo, which will automatically replace the site title at the top left of the page.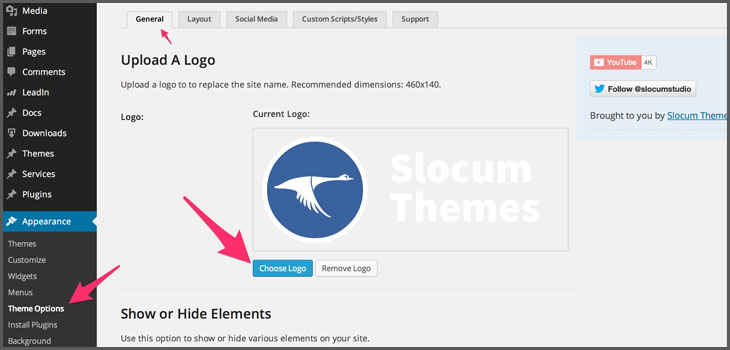 Horizontal logos are preferred for the web, as it allows people easier access to the navigation bar and to the content below the logo.
Change your Website's Color
If you do in fact have a brand and business that you are promoting, chances are good that your logo or your business has a set of colors and complementary colors that are used. While Modern Business Pro has default color schemes to choose, you can also tap directly into theme customizer by navigating to Appearance > Customize.
With this feature, you can set the color of the background, navigation bar, text, links, and more. Just save when you are done.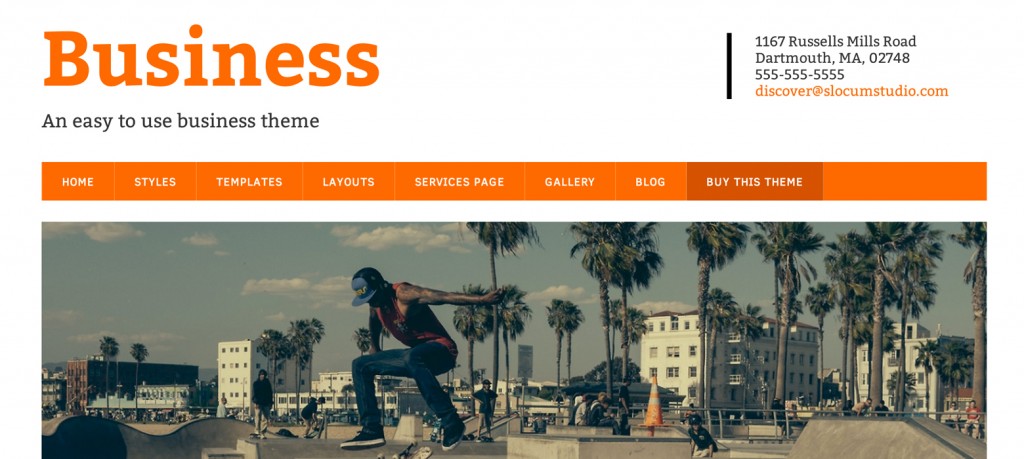 We now have much of the branding elements uncovered. Let's add a bit of splash to your front page.
Adding a slider using Front Page Slider
A great way to bring attention to your brand is with a big image or call to action. Thankfully, as long as you have an image ready, this will be an easy process.
You will need an image slider plugin like Soliloquy Pro, which has a widget included to display a large slider on your site. From there, we have a "Front Page Slider" widget area that you can use to display a large image right on the front page of your website. Using tools like Soliloquy, you can also link your images to other pages. I can't think of a better way to get someone to click right over to a contact page or another page. It's a giant call-to-action.
We have a more in-depth walkthrough about how to implement an image slider on one of our themes here.
Adding Social Media to your site
Finally, a business brand is only as good as the community experience and outreach of its social media. Getting in contact with your customers on the personal level is very important today. Featuring attractive links to your social media from your website can be important as well.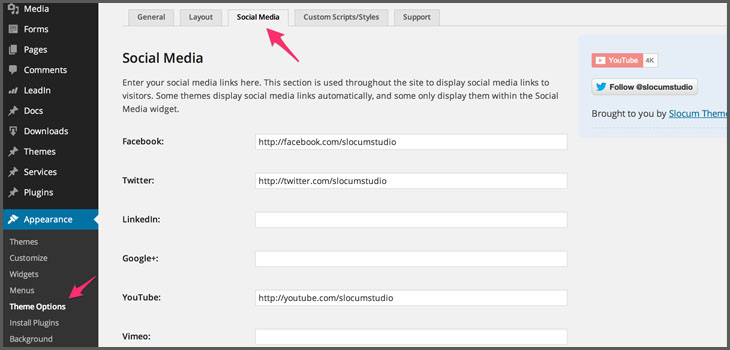 Adding Social Media is also simple. Go to Appearance > Theme Options, and click on the Social Media tab to view a list of available social media in which you can enter the URL.
But all this does is tell the website what the links to your social media are. To implement them on the website, you also have access to a widget called "Social Media", which is simply dragged to a widget area. If you have entered any social media URLs in the Social Media tab previously, this widget will display a smart link to that social media page from the website.