A study by SEO firm HubSpot shows that 55% of all visitors to a website spend less than fifteen seconds on said site before navigating somewhere else. Blame it on the instant gratification of modern society or the availability of so much information.
Hiring a HubSpot developer can be beneficial for your business. What does a HubSpot developer do? Using a HubSpot developer for your business ensures that you can leverage the full potential of the HubSpot platform, customizing it to suit your specific needs, enhancing your marketing efforts, improving lead generation and customer engagement, and ultimately driving growth and success for your company.
It doesn't matter what causes this, what matters is optimizing your website under the condition that you have fifteen seconds to pitch your brand to most visitors.

Adding an Image Slider
In our last article about setting up a WordPress website, we touched upon adding an image slider to create a call to action link. By setting up a large image slider, you can give visitors a big reason to click and view more pages on your website. Make sure the image is powerful and drives people to take action.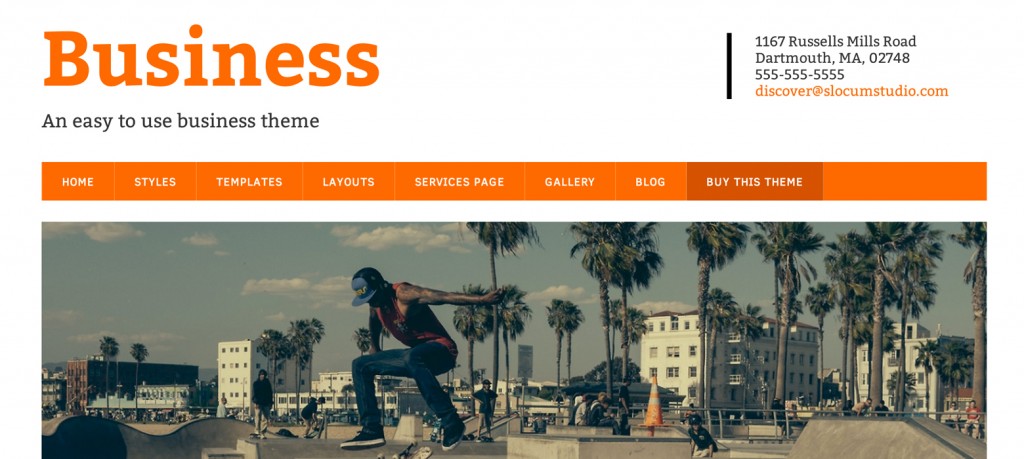 In the spirit of not being redundant, you can read a resource about how to add an image slider here.
Removing the Primary Navigation from the Website
For websites where you would like visitors to make return trips or become members, you are going to want to stick with a traditional format website to guide people with the familiar.
If you are selling a product online and want to draw people to immediately purchase your product, however, you might want to think about creating a landing page for your home page. How is a landing page different then a traditional website home page? Well, it is generally full-width (no sidebar) and brings to attention only the elements that are going to lead people to find out more and purchase.
With this in mind, a great way to stop the visitor from meandering all over the place is to remove the Primary Navigation. If you have been following this article series, you might already have the Modern Business Pro WordPress theme and have been using it's many features to build your website and implement your brand.
Another wonderful feature of Modern Business Pro is the ability to hide the Primary Navigation from the website. This brings the content of the product closer to the top of the page and gives the visitor less choice in choosing where to go next.
To hide the Primary Navigation, go to Appearance > Theme Options and the General tab. In the section where you can show/hide elements of the site, you can hide or show the primary navigation.
Create Custom Front Page Layout with Conductor
Sometimes, you want even more control over the look of the front page of your website, or other pages in the site for that matter. With WordPress, this is one of the main places where things can go awry. Without coding knowledge, there is no easy way to display content on your page in the way that you want to. Maybe you want to have a slider image followed by a side by side list of four services that you offer.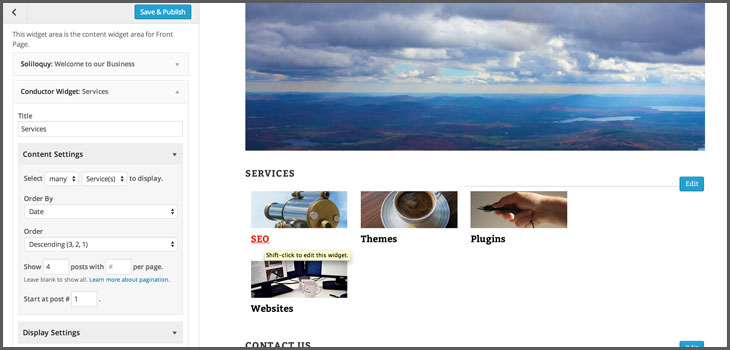 Because displaying custom content on the front page of WordPress is not something that can be done out of the box, the team at Slocum Themes has a solution called Conductor. With the Conductor plugin, you can display content exactly as you would like to. This video will show you how using Conductor can allow you to set up the front page of Modern Business Pro as you would like.
http://youtu.be/AyAf2HJ_Dh8
0:00 – Introduction/Elevator Pitch
1:18 – Use Conductor to change layout of front page in WordPress
6:53 – Use Conductor to change layout of archive WordPress
11:04 – Custom colors and logo to mimic your brand
13:40 – How to get Conductor and Modern Business Pro
This is another way to bring attention only to the content that you want people to interact with and see.
Create Call to Actions with Gravity Forms
Because people spend so little time on a site, imagine if it was possible to reach out to them at a later time with a bit more focus. Good news. That option exists, and it is called an email marketing campaign. How do you start one? You get an email marketing software like MailChimp or Constant Contact (free accounts to start) and then integrate them with a contact form plugin on WordPress like Gravity Forms.
Gravity Forms is a great choice because it integrates with our Modern Business theme and with our Conductor plugin. Simply add the "mc-gravity" style to your subscribe form and when it is displayed on your site, it will copy the color and font styles of the rest of your site.