It is no secret that WordPress has become a platform capable of just about anything.
While it initially started as a writing tool for website creators and bloggers, it has quickly expanded to encompass just about any web purpose. The sky is the limit.
Whether the solution be a full e-Commerce system, a community based forum, or even a landing page for realtors and lawyers, WordPress has it all.
There is a new trend in WordPress that benefits teachers, schools, and students. WordPress calls them Learning Management Systems. This post looks at Sensei from WooThemes, WP Courseware from Fly Plugins, and Train-up! from Train-up –all WordPress learning management system plugins.
What is the purpose of a Learning Management System?
A learning management system (LMS for short), is an integrated plugin framework for WordPress that enables the user to create classroom learning content on their website and easily.
This information can be tracked, so professors and institutions can keep score.
At Slocum Studio, we have used these for clients in different fields to great effect. They are powerful, and for less money than investing into existing databases, you can create custom websites with your own learning content, courses, and resources.
These resources and classes can manifest themselves in text, video, or image form. Quizzes and tests can be graded on the spot without the need for a professor to correct them. If the test has some open-ended questions, then the professor or grader can see just those forms that are open-ended and grade them.
Let's take a look at the most popular of these WordPress LMS solutions, Sensei.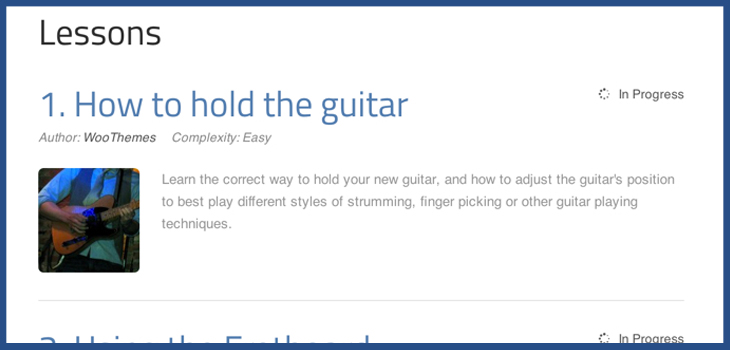 WooThemes Sensei
Price: $279 (For 25 sites / $129 for a one-site license)
Sensei is the most prominent of the WordPress learning management systems.
For the business-minded, it certainly is the slickest option available, because it works flawlessly with WooCommerce, the WordPress eCommerce plugin that gave WooThemes legs. If you want to charge for courses, this is the easiest way to do it.
Sensei is also the most user-friendly and thus least customizable option. For seasoned coders, the amount you can do with WP Courseware and Train-up, from a code perspective, outpace Sensei.
While we still recommend having a WordPress agency create a website with eCommerce and LMS integration, the user-friendly nature of Sensei does make it the most appealing of the plugins to use.
WP Courseware
Price: $137 (For unlimited use / $67 for one site license)
WP Courseware by Fly Plugins is interesting in that it uses a drag-and-drop approach to content creation.
With WP Courseware, you can really break down the courses and resources at a digestable level. There is a distinct hierarchy to the way WP Courseware works, which makes it easy to visualize how an entire semester of class or an entire unit of content is going to look.
The material here is broken down into parts: Full courses contain modules, which contain course units, which contain tests and quizzes. Here is an example of what that looks like on paper:
Course: Learning WordPress
Module 1: How to Install WordPress
Course Unit 1: First step in installing WordPress
Course Unit 2: Second step in installing WordPress
Course Unit 3: Third step
Quiz on the steps
The cool thing about the process is that it is drag-and-drop. If I decide that Course Unit 2 belongs before Course Unit 1, I can just drag it along.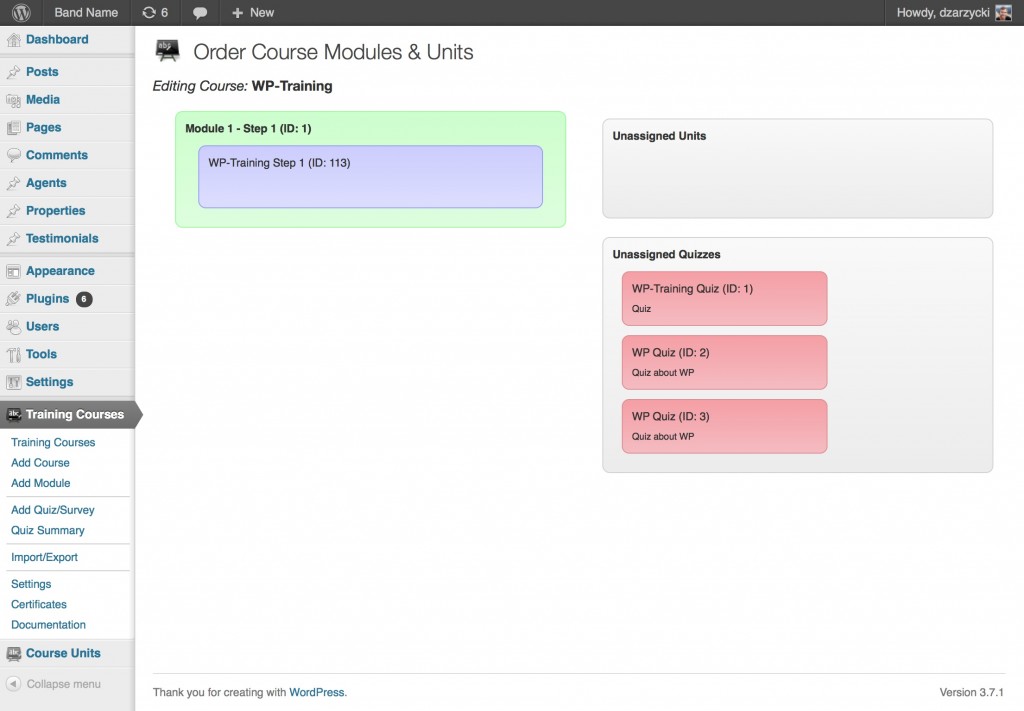 Also, like Sensei, WP Courseware fits in nicely with WordPress and retains the look and feel of the website it is being placed on.
So when a person is viewing the classroom page, it still fits within the brand of the company or school putting out the content.
Here is a look at us reviewing WP Courseware and Train-Up:
Train-up LMS for WordPress
Price: £45 (at time of print, $75 USD)
We have spent the last 700 or so words talking about the application of WordPress learning management systems with relation to classrooms and teaching content.
What if you want a WordPress plugin to train staff at a company? This is where Train-up thrives.
Unlike Sensei and WP Courseware, Train-up will look nothing like your website when you are finished creating content, unless you have an experienced coder to go in and make it look like your brand.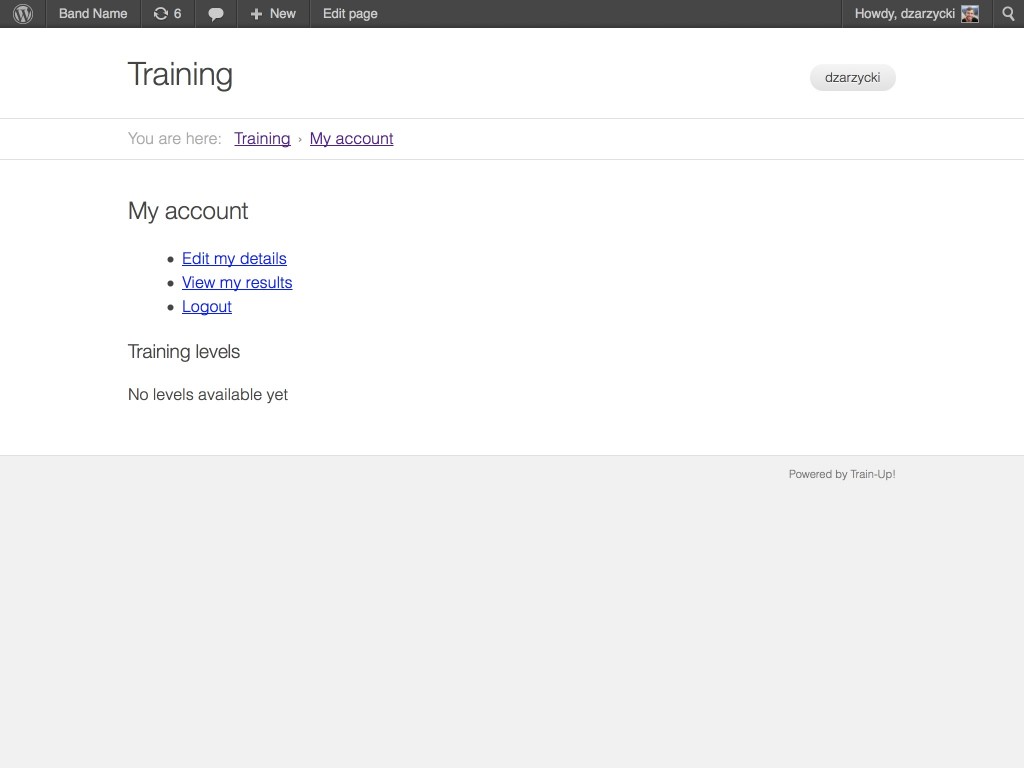 But for training staff, Train-up provides true hierarchy to the people in the "organisation" (get it?… because the plugin is British). Using Train-up, there are special custom post types to create different levels of staff, access to specific content for different employee segments, and clear structure for which levels of management have access to which material.
Alternatives to Learning Management Systems
These plugins are great and we have helped numerous clients install plugins like these on their websites. However, these systems are not right for every client.
If you are selling courses, you may even consider utilizing other services like membership services or even digital download plugins to simply sell a group of files as a course. If content does not include interactivity, this might be the easiest and most feasible option. If you want to do something more custom here, let us know so we can get you on the right path.
Wrap-up
There you have it. Sensei is going to be most attractive for houses looking to sell course content, WP Courseware is going to be the easiest to manage for lots of learning content in school systems, and Train-up is going to be the optimal solution for training employees at work.
Are there any plugins you would like us to look at or that we may have missed? Let us know in the comments.
You can watch videos regarding these plugins on our YouTube channel as well as take a look at our premium themes here.