The first step to increasing your conversions and lead generation is to setup a specific landing page.
The concept is simple: Remove the distraction and focus the visitor of the page on your product and value proposition.
However, there's all of that distraction surrounding your content. This is going to hurt our chances to convert because of distractions or too many links to bounce visitors off the page.
You have your header which contains the logo and navigation which is essential when someone is visiting for the broader scope of your site. Then there's the sidebar that might include secondary elements like social media, ads or recent comments.
We need an easy method to remove all of this distraction for our unique landing pages and this is where WordPress can help!
When you should use a landing page
I'd love to use landing pages for every single page of my website, but that would dramatically drop the click through rates and general usability.
We should use landing pages when we're doing specific marketing or advertising campaigns. This is when you have a short window to capture an important lead or sale.
E-mail campaign
Use landing pages in your next e-mail campaign. If you're promoting a special sale or download, this is a great opportunity to build out a page that will convert traffic coming from your audience's inbox.
Simply setup the link in your e-mail campaign to send traffic to the landing page you created.
Online advertising
This is a crucial time to setup landing pages in your WordPress site.
If you have an ad budget, you're buying traffic to send to your site and you don't want to dump them off on the home page.
Why?
You want visitors from these paid leads to funnel down to your offer as soon as possible. Get them to sign up for your newsletter or buy your product. You're not going to convert if they have to click around your website to find what it is they need to buy from you.
Pro tip: Our themes support a sweet Gravity Forms + MailChimp sign up form. Read this post to learn how it works. 
Offline advertising
You're probably paying for this too.
Let's say you advertise in ESPN Magazine, you might want to setup a URL like: yoursite.com/espn
Just like your online ads you will build a specific landing page for this audience. It's also a great way to measure traffic coming from traditional ad media in your analytics.
Social Media advertising
Streams, walls, updates and feeds oh my!
If you're like me, you spend a great deal of time browsing through social feeds every day. There's so much going on it's hard to keep up. If you want to convert your special announcement or newsletter signup — use a great headline with your landing pages.
Set yourself apart from the busy social media scene.
What makes a great landing page
Web marketing efforts can be measured, adjusted, and retargeted. This is the advantage we have over traditional media efforts.
Here's a raw example, built in Balsamiq, that demonstrate's a common landing page layout: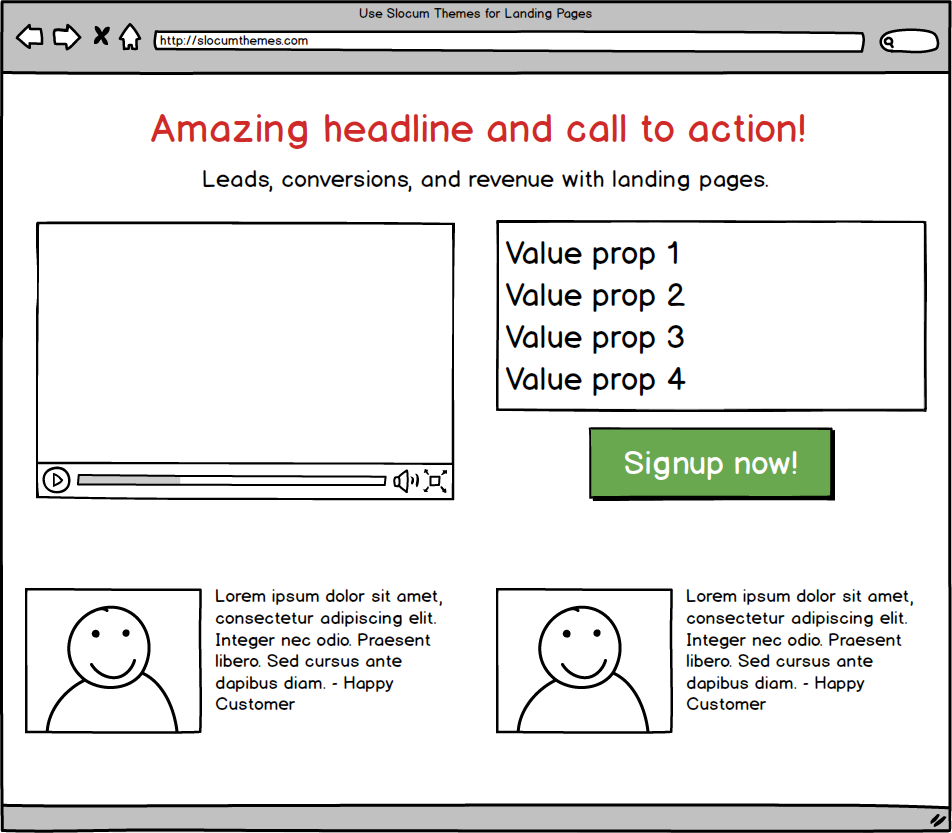 The breakdown
Header call to action and tagline: It's crucial that your call to action grabs the attention of the visitor right away. This is your split second chance to win.
Example image or video: If you have a product demonstration or sales pitch — using a video will certainly help get that message across.
Bullet points: List out the best value prop's for this message. What really makes the customer want what you have?
Stand out call to action button: This is the most important piece of the puzzle. A nice big call to action button that can't be missed. This is the button that captures the signup or sale.
Social proof: This can come in the form of customer testimonials or reviews that prove your product or service is worth paying for.
Configure this in your Slocum Theme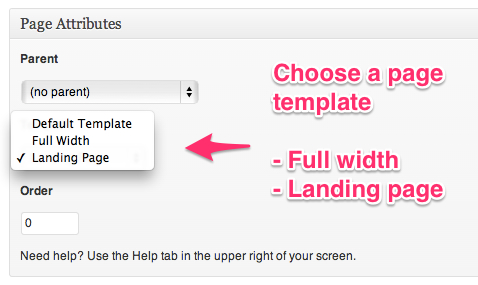 Our current offering of WordPress themes allows you to setup these page templates and remove the clutter with ease.
Within the pages of your theme you can select from 3 page templates, each serving it's own function:
Default – Includes content on the left with a standard sidebar on the right
Full Width – Which remove the sidebar and allows for your content to go edge to edge
Landing Page – Which removes all header, footer, and sidebar elements to fully engage with the content on the page
Once you select the template it's up to you to fill in the content and start earning the conversions you're looking for!
This is only a start
The wireframe example above is just the initial ground work you should expect to put into your landing pages. Landing pages can be short and concise or long with loads of detail. The good thing is, you can continue to copy these landing pages and optimize as you see fit.
Clear the clutter and focus on your message! So how many landing pages are you making?