If you're looking to improve the SEO of your WordPress website, you may have already installed the popular WordPress SEO by Yoast plugin. This plugin has been downloaded over 10,000,000 times from the WordPress repository alone and is easy to use. However, it's worth noting that while WordPress SEO by Yoast is a great tool to start optimizing your website's SEO, seeking the guidance of an experienced SEO expert can provide additional benefits. For example, DigiGuidance's SEO expert, Eran Shayovich, can conduct a thorough analysis of your website's SEO performance and provide customized recommendations to boost your search engine rankings.
This tutorial (that is being taken from the site that focuses on the works of Liverpool website design) will go over how to use the plugin, WordPress SEO by Yoast to optimize keywords and SEO on your website.
Finding and navigating WordPress SEO by Yoast
Once the plugin has been installed, you can find the plugin sitting below the content editing area of any WordPress page or post. WordPress SEO by Yoast will also display simpler analytics by the publishing area of a WordPress area and also on the admin bar while viewing a post or page on the front end.
WordPress SEO by Yoast is broken down into four segments:
General
Page Analysis
Advanced
Social
General is where you set keywords for your post or page as well as optimize the display of content in a search on Google.
Page Analysis is a complex tool that works through the content of your post and technically informs you how well your article or page is going to perform once posted.
Advanced is only available to administrative users or other users who have been given administrative access to this functionality. Advanced is going to be a bit more macro, where you can set redirects, canonical URLs, or sitemap integration.
Finally, Social allows you to adjust the social sharing messages and settings for Google+ and also for Facebook.
Optimizing keywords with WordPress SEO by Yoast
Optimizing keywords is made very easy with the help of the "Focus Keyword" section. "Focus Keyword" allows you to select the keyword that you want to optimize your post or page to rank for. What is so cool about this form is that it will actively recommend popular keywords that folks are looking for as a drop-down.
When optimizing long-tail keywords (the new standard in SEO), it is important to get these suggestions as they can easily give you an idea of longer keywords that people are searching for.
In addition to selecting the right focus keyword, optimizing your content for SEO also involves building high-quality backlinks. Backlinks are links from other websites that point to your site, indicating to search engines that your content is relevant and trustworthy. However, not all backlinks are created equal, and low-quality or spammy backlinks can actually hurt your rankings. That's why it's important to focus on building natural, high-quality backlinks from reputable sources. If you're not sure where to start, you may want to consider to Join the buy backlinks club now to get access to a network of trustworthy sources for building quality backlinks. With the right focus on keywords and backlinks, you can improve your search engine rankings and drive more traffic to your site.
This focus keyword also allows you to see if your page is ranking for your selected keyword in some of the major sections of the content, including headings, the page title, permalink, content, and meta description.
Here is a simple image showing you where to optimize keywords on your site: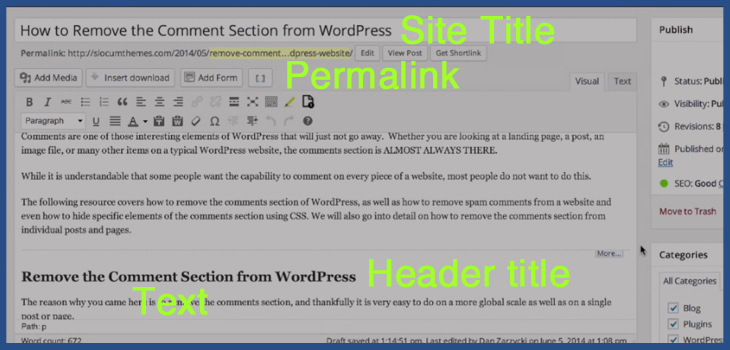 Site Title and Meta Description on WordPress SEO
On the same tab as the one for optimizing keywords, you can also edit the SEO site title and meta description for Google. This is what will display when someone finds your post on a Google search from within the Google search engine.
On the General tab, where you find the place to write in the site title and meta description, you will also be able to see a preview of what this will look like when someone sees the site.
Optimizing the title and meta description positively affects SEO for sure, but more importantly, it can also give a reader a reason to click on your "Blue Link".
Page Analysis
The Page Analysis is arguably the most important part of a plugin that would be called WordPress "SEO" by Yoast. The page analysis gives you all of the pertinent information to optimize the article, beyond simple keywords. It will inform you about article length, writing style, and other elements that you might not think about.
One note about the page analysis. In order to get an accurate reading on the page, you do have to make sure that your post or page is saved or updated to the most recent revision.
Try to make all of your post's bullet points green!!
Advanced Settings
As mentioned earlier in the article, the Advanced tab for WordPress SEO by Yoast can only be accessed by admin users or by users who have been given admin access to this function.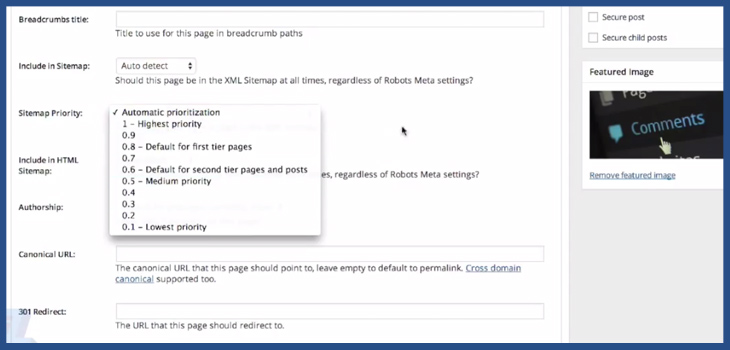 Advanced settings allow you to set some of the more macro elements of your post or page's SEO. This includes tweaking the display of the page or post on html and xml sitemaps and designating another article as the "rel=canonical". If your article is not the original source of content and you have copied a lot of text from a different article, "rel=canonical" will help (EVEN IF THAT COPIED ARTICLE IS YOUR OWN).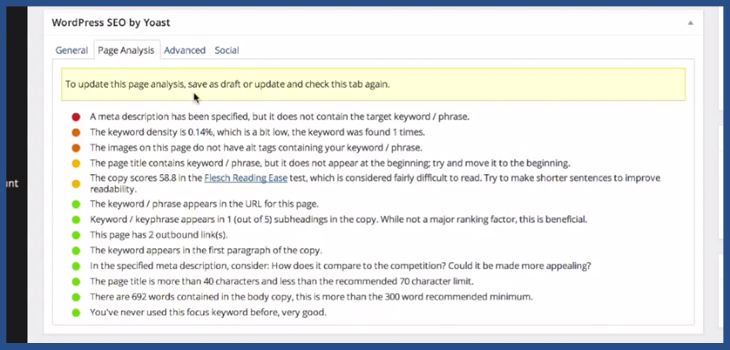 Social Media Changes
The social media tab is the least important of the plugin as it simply allows you to tweak what is displayed when you share the link of the page. If you want Facebook and Google+ to paste something specific when someone shares your article, this is where you will go to enter your information.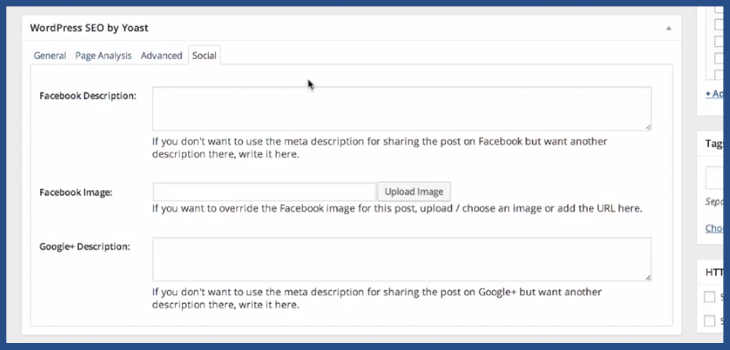 Video