WordPress 4.0 is coming out more quickly than you might think. At the time of this posting, it might even be coming as soon as next week! Certainly something as major as 4.0 should be a big deal, right?
Before you go running and screaming to you and your client's websites, you should check out what is new with the most current update. We have been testing this new version of WordPress vigorously on test servers and have the rundown.
What do your clients need to know about WordPress 4.0?
Let's get the major stuff out of the way. What does my client need to know about the new WordPress?
Quite honestly? Not a whole lot.
Unlike WordPress 3.8 "Parker", where the entire back-end interface got a facelift and redesign, WordPress 4.0 simply makes things better
It is important to note that simply because WordPress is now 4.0 does NOT make it any more or less special than a release like 3.9. All stepped versions of WordPress (ie. 3.0 and 3.9) are of equal footing and impact, even if the big number FOUR could potentially scare developers off.
The only element that might cause confusion to an end-user is the new location of widgets in the WordPress theme customizer (Found by going to Appearance > Customize). Widgets now have their own panel to accommodate themes and WordPress installs with a lot of widget areas.
What's New in WordPress 4.0?
While there are not a lot of earth-shaking changes to the way WordPress functions in WordPress 4.0, there are a number of very cool enhancements. These include:
Video Preview in the WordPress Editor
One of the biggest complaints this writer used to have with WordPress was the finicky nature of YouTube videos embedded in WordPress. To embed a video in WordPress, you had to paste the link of the video on a separate line within WordPress and then hope and pray that the video would actually appear. There were also formatting issues that sometimes made it difficult to preview.
With WordPress 4.0, when you paste in a link from a video service like YouTube or Vimeo, you are shown a preview image of what the user is going to see on the front end. Cool stuff.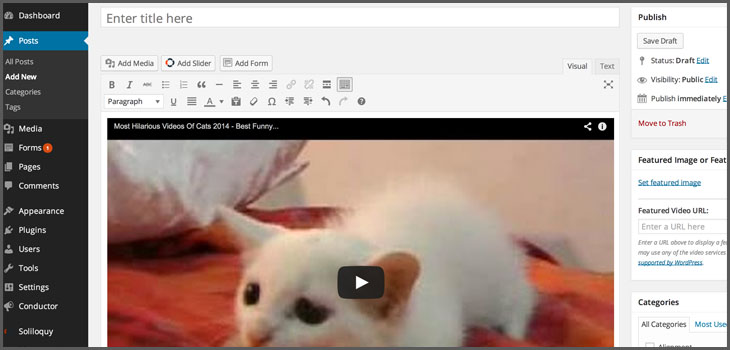 Select a Language during WordPress install
A common complaint of older versions was the laborious process of changing your language if you did not speak English. With 4.0, you select your language from the opening as you create a new WordPress site. There are no extra steps to take or any diverging paths with setting up the website.
Plugin Shop Facelift
Like the Theme experience in 3.8, the plugin section has also received a facelift, to allow people to have a more visual way to experience the plugins they are about to download.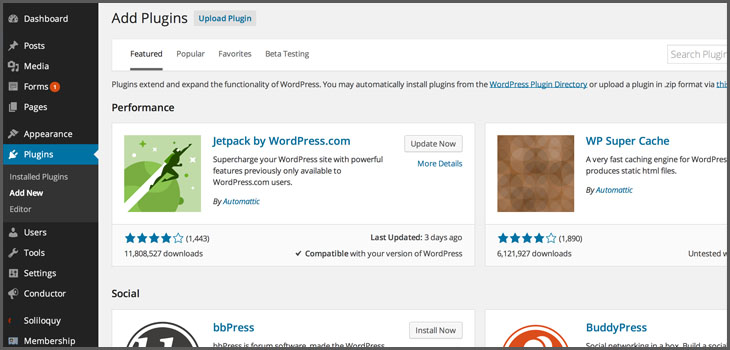 Floating Editor Pin
Another annoyance in WordPress is the content editor on the back-end of WordPress. When writing longer posts, scrolling up and down the page to get to the toolbar to label something as a "Header" or to add a link can be frustrating.
With WordPress 4.0, this problem has been fixed as well. There is now a floating menu bar that follows you as you type, which is really nice.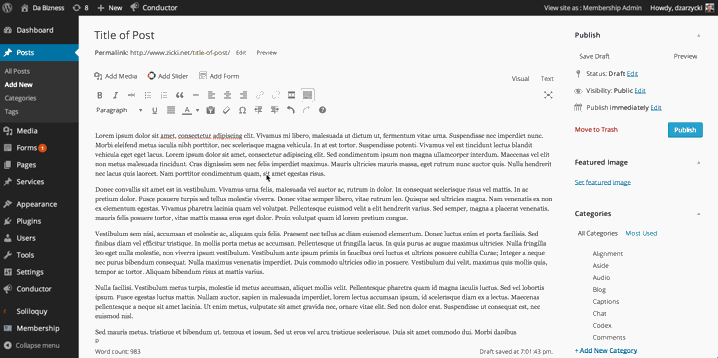 Widgets in the Customizer are now loaded in a separate panel.
As mentioned above, widgets now have their own panel to accommodate themes and WordPress installs with a lot of widget areas. If you are looking for a specific widget, you will now click on the widget tab and be taken to a wholly separate tab.
Conductor will be Updated
As an agency or a developer, any plugin that has widget or customizer functionality will need to be adjusted for the new changes to WordPress. Heck, our very own plugin Conductor (which allows for custom WordPress page layouts) relies on the customizer to function!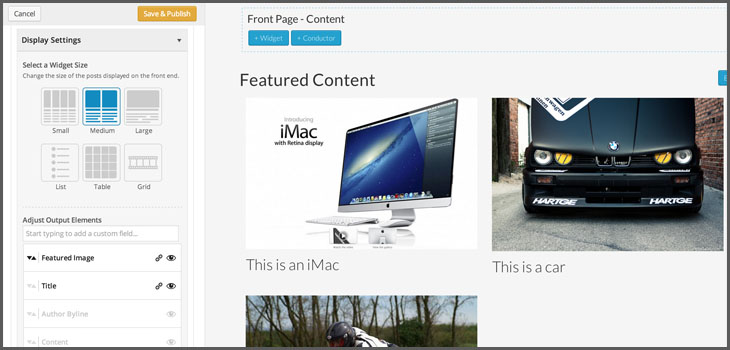 Make sure that if you are updating plugins around the launch of WordPress 4.0, you are checking widget-heavy plugins to see if they are ready for WordPress 4.0 so nothing is broken.
We will have an update for Conductor right around the launch of WordPress 4.0 to address the changes to the widget system.