Getting started with WordPress is never easy. There is a lot to learn and a lot of potential to royally mess up your website.
That is why one of the first things you should do is have a WordPress backup regularly on your website.
Once you continue using WordPress you will find new reasons to love your back up plugin. These can be used for lots of different purposes, like taking created content and moving it to a live website or transferring content to another website.
The two most common plugins to use in WordPress are BackupBuddy from iThemes and BackWPup from MarketPress. Read on to find out which plugin we recommend for which situation.
Is BackupBuddy worth it?
BackupBuddy comes from iThemes and is a premium plugin. It costs $80 for the plugin and comes with a license key to use on your website.
While the price may seem steep, in our episode of PressThis, we discuss why this may not be a bad thing.
BackupBuddy has a more fully-featured total solution than BackWPup in that it makes the migration process as simple as the back up. This is the complete solution.
BackWPup
That being said, BackWPup is a great plugin, and it starts as a free plugin in the WordPress repository!
You can purchase the BackWPup Pro for $50, but the professional version is really there for priority backup support and extra back up features. It does not add easier migration found in the BackupBuddy plugin.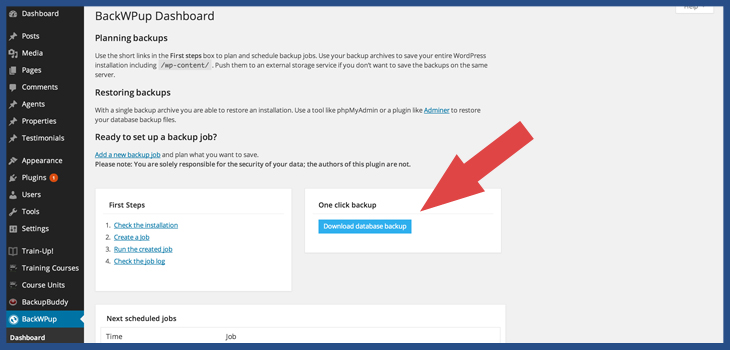 Where these backup plugins are very similar
BackWPup and BackupBuddy both do most aspects of back up right. They both have good scheduling options to make a WordPress backup a repeating element of your website. While the workflow looks slightly different, they both offer scheduling options that allow you to set the frequency and time that the backup happens on the website.
One-click back up
Both plugins also offer what is referred to as a "one-click" backup that enables the user to click on one button and get a download of the WordPress database (the hierarchy and layout of pages and elements of WordPress).
BackupBuddy offers a one-click option for both the simple database and the entire website (pictures, etc.)
Backing up to Amazon S3 or Dropbox
Both BackupBuddy and BackWPup also allow the ability to put the scheduled backups on third-party services like Amazon S3 and Dropbox. This is a great way to automate your backups so you don't have to think about them.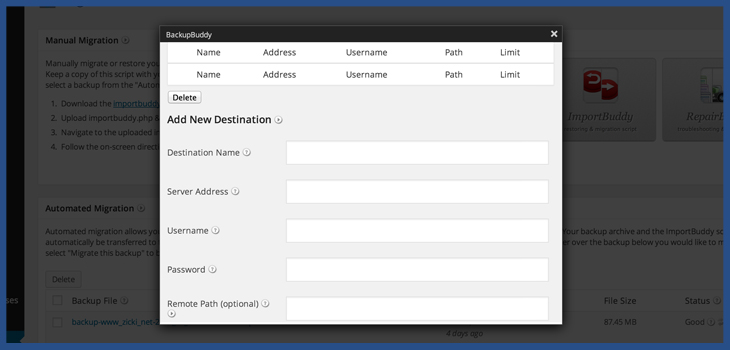 If anything was to happen to your website, the backup is always a click away on another website or service. Very nice.
For a better look at the flow of these two plugins, we do have article and video resources for HOW to back up using both of the plugins. You can find the resource for premium plugin BackupBuddy here and the other article for BackWPup right here.
For a beginner using WordPress
The "Jobs" system that BackWPup has is a very organized way to manage the schedule of a backup, easier than even BackupBuddy.
Everything, from the name of the backup, to the schedule of the backup, to what files are included, is all tabulated in the "Job" of BackWPup. This makes organization of what your backup is doing easier. With BackupBuddy, all of these elements are found in different tabs.
For someone just getting started, having a blue "one-click" button on the opening page of BackWPup is also reassuring. "I wanted to 'back-up' my website, and there is my option."
For the seasoned professional
While we do prefer the workflow of BackWPup to BackupBuddy, there is something to be said for the complete experience that BackupBuddy offers.
If you are managing the websites of clients or consistently building websites and migrating them from local hosts, you are going to want to look at BackupBuddy and the excellent ImportBuddy tool that automates the movement of backed up content from one website immediately to another FTP server.
Other backup plugins
Both plugins are very effective, but they both have different workflows for different purposes and people.
Are there any other backup plugins you recommend that were not on the list? Please let us know in the comments below.