Our Capture WordPress photography theme has been featured on WordPress.
Many people have been asking us for the definitive list of what our Capture theme offers to the paying customer. The list is pretty expansive, so take a seat, grab your camera, and take a look at the list of features included in the pro version of Capture.
Full Screen Image Gallery
One of the most undoubtedly cool elements of Capture is the full screen gallery. On the free theme, you can click on the featured image to expand to a full screen view. From this view, you can scroll between posts using this cool feature.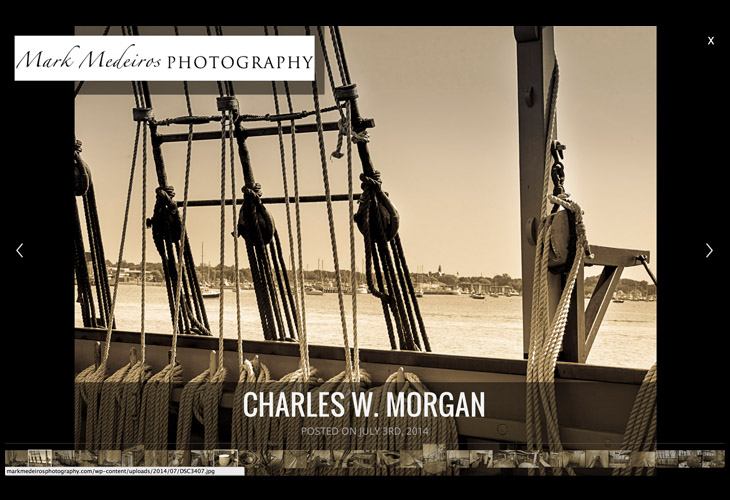 But what if you want to display a gallery of photos from a recent shoot or event? Take a look at this gallery from Mark Medeiros Photography, which uses Capture Pro. Underneath the featured image, you will see how cool it is to have a full screen image gallery.
The best part about this feature is that there is no other image technology or learning required of the user. All you need to do with the Capture Pro theme installed is create a normal WordPress gallery in a post or page and link the gallery to the "Media File" (one of three options given when you create the gallery).
That's it! You can read more about that feature here.
Featured HD Video
With Capture Pro, you also gain access to Featured HD videos. With this feature enabled, you can either choose to use a large featured image for a post or page OR a video, by providing the link of the video from sources like YouTube and Vimeo.
Support for Fitvids.js is also included so that videos inside your content display in the correct proportions. Out of the gate, videos will display in a lopsided fashion on many themes.
Theme Features from our Pro themes
In addition to these cool Capture specific features, here are other features that Capture Pro shares with our other pro themes.
Copyright Branding
Want to remove the Slocum brand from your copyright area or tweak the copyright area to match your brand's message? An easy content area is featured in the theme options of our pro themes.
Color and Font Options
With Capture and our other themes, take advantage of a fleet of great default color styles and font options to match the look and feel of the theme. These color options will differ from theme to theme to match the look and feel.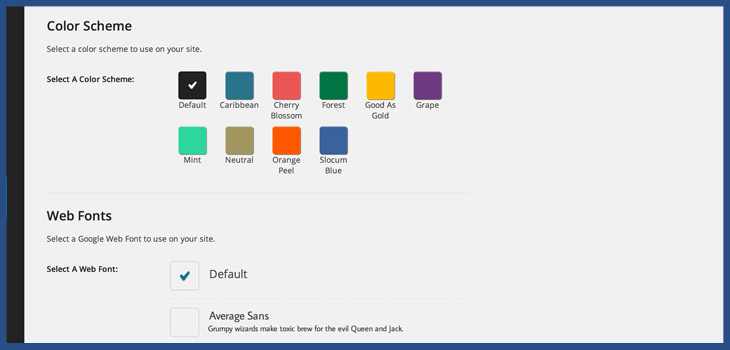 Showing and hiding content
With Capture Pro, you can choose whether or not you want to show or hide content like archive titles, author information, post meta (the stuff that comes after the article).
Support for Gravity Forms and WooCommerce
Capture Pro is created with popular Gravity Forms and WooCommerce in mind. With Capture, if you install and use Gravity Forms, it is very easy to make your email subscribe forms and other contact forms match the look of your site.

With WooCommerce, shopping icons and other elements of WooCommerce will mirror the look and feel of Capture, with no additional input on your end!
Custom Scripts and Styles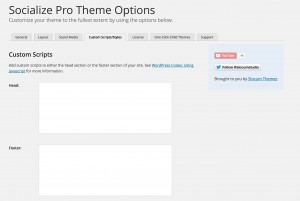 Custom scripts and styles are also supported with our Pro Themes. If you are more code savvy, this means that you can easily add scripts to the header and footer of your website, right from within the WordPress back-end.
This allows you to add Google web code snippets and other scripts to enhance your website.
Additionally, you can also add custom CSS styles on the same page with the Custom Styles section, directly below the custom scripts.
Developers and designers rejoice!
Adjust Featured Image Sizes
Featured image sizes are also easily adjustable. Pick from different options depending on the Pro theme you have downloaded and other featured image sizes provided by the plugins you have installed!
Access to Documentation
We have documentation upon request for our themes as well including how to upgrade the themes, install them, create child themes for your own code, and also how to navigate these awesome features.
Support
Last but certainly not least is the support you get from our team at Slocum Studio. We have a ticket system built right into the theme options in the back end of your theme install. If you are having issues using the theme or experiencing a problem, just let us know and we would be glad to help!
Here is what people are saying!
"Congratulations to the team for this work, I confirm the bug is resolved after updating the theme. And thanks a lot for informing me, it is very professional!" – Frédéric
There are a ton of features that make Capture Pro and Slocum Themes the place to be for your website.