If you look at modern websites, you may notice a trend in design and development. Many high-converting websites will have a layout that looks like:
Header
Image Slider
Text content
Featured content
Using this common layout, the first thing a visitor sees on the front page of a website — other than a logo — is a big slider image to visually capture attention.
You have mere seconds to get the attention of a potential customer. How are you going to do that? One great solution is to put a big, beautiful slider on the home page of your website.
This article will go over how to add a slider on the home page of your WordPress website, whether or not you are using our themes.
Best WordPress slider plugin to use
The WordPress Slider plugin that we recommend is the Soliloquy slider plugin. You can download the plugin here.
At time of writing, the plugin is only $19, which is a good price given the ease of use you get with the theme.
We like this slider because it is light on load and has a lot of options to customize the look and feel of the slider, including:
Size of the slider
Transitions
Time between transitions
Image Cropping
Custom themes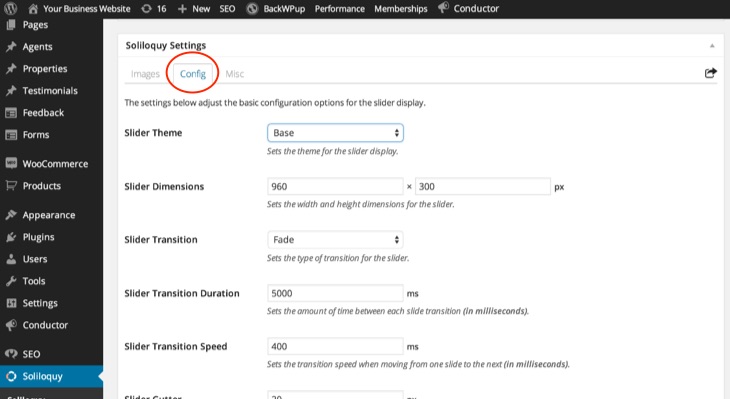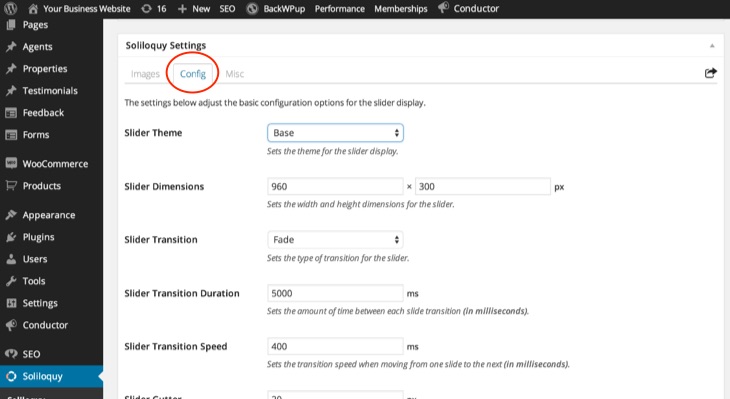 How to use the Soliloquy WordPress slider plugin
Using the Soliloquy Plugin is super easy. You install the plugin like any other plugin and then you move to the Soliloquy section, which will be added to the left sidebar of WordPress.
Once you get there, you can click on "Add New" to create a new slider and then start uploading images.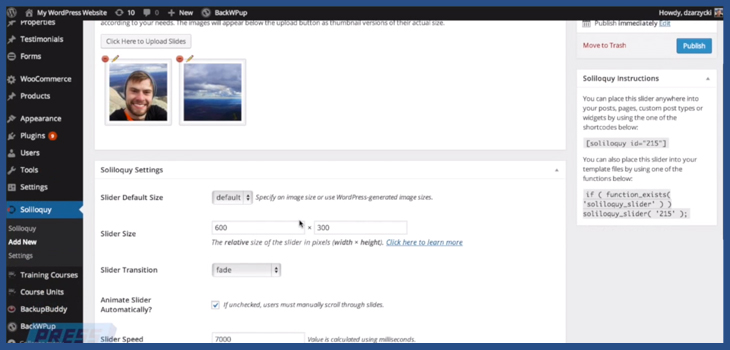 After you have finished with the uploading of images, you can play around with where the sliders link as well as the default size of the slider and how it transitions. You can add multiple images and, by clicking on the little pencil icon next to the image, can edit what internal pages they link to.
Once you have played around, how do you actually put your slider on the front page of your website?
Putting a Slider on the Home Page of WordPress
To put the slider on the front page of your website, you will first need to make sure that you actually have a front page registered on your website.
To do this, create a page on WordPress by going to Pages > Add New. Create a page called "Home" or whatever you would like the homepage to be called.
At the top of the page content, you will notice a button to add a slider, provided by Soliloquy. Click this button and select the slider from the options available (if you have only created one slider, there will only be one option).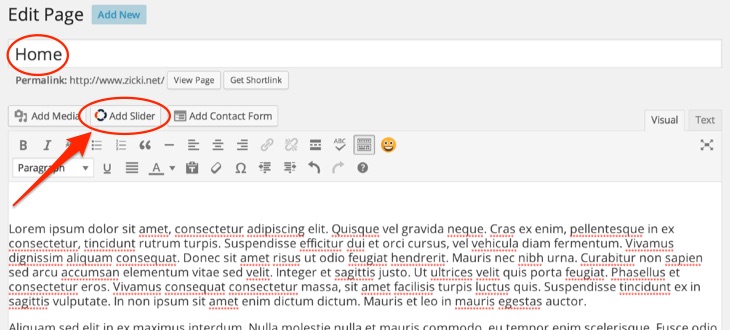 Now you will want to publish that page. Once the page is published, you can go to Settings > Reading in WordPress and set the front page display as "a static page".
From the dropdown, select the newly created "Home" page as your static page. Make sure to save your changes.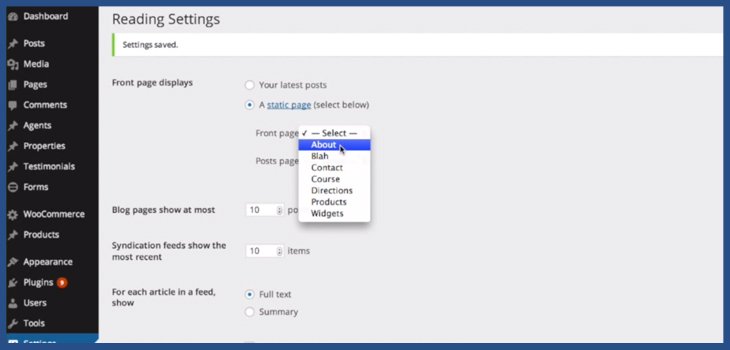 But what if I don't like seeing the title?
There might be some customization options that you will not have control of with your theme as it stands. You WordPress theme will have to be specifically developed to support a front page with the slider above items like the title of the page.
We make it easy to put a slider on the home page with our "Front Page Slider Widget Area", found under the Appearance > Widgets section of the WordPress dashboard.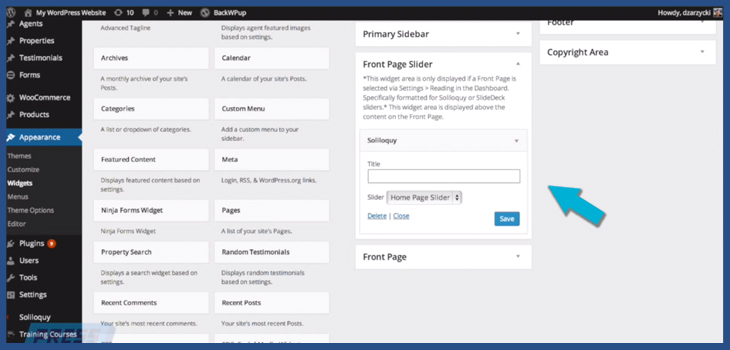 Front Page Slider Widget Area for WordPress
We have included a front page slider widget area with our themes to make it super easy to place a slider like Soliloquy on your WordPress website.
Just drag the widget of your favorite WordPress slider plugin (again, our recommendation is to use the Soliloquy slider plugin) into the "Front Page Slider Area".
You can title the slider if you would like with Soliloquy, or you can leave the title blank if you simply want to set up the slider to run without the title.  Simply select which slider you want to use and click "Save" to save your changes.
That will display the widget on the page that you have designated as a "Front Page".
Can you use other slider plugins?
Absolutely. Our clean WordPress themes and our wonderful front page slider widget area make it easy to add sliders (from slider plugins with widgets for their sliders) to the front page of a website or to other pages on the site.
Home Page sliders work with THESE WordPress themes:
Video on How to Put a Slider on the Home Page
Like this capability?
Make sure to check out our themes here! All of them work with our Front Page Slider widget area except for Capture.
For a more in-depth look at adding the slider to our themes, check out this resource.