You may or may not be surprised to learn that WP Smush.it is an image optimization plugin for WordPress that uses Yahoo! to run its services.
With the popularity of WordPress and the plugin — which is at time of posting active on over 300,000 websites — it is safe to say that Yahoo!'s servers were getting taxed to perform the operations on your images.
In fact they were getting taxed so much that there is concern that the server load is too much for Yahoo! to continue with the service it offers. It is time to look for alternatives before it becomes difficult to optimize your images.
How does the Smush.it change affect my website performance?
Images are some of the major killers of page load speed. The entire purpose of using a tool like Smush.it is to take images that are too big and modify them to be smaller files.
In another article we posted, we talk about the specific standards you are looking for when optimizing your images on WordPress.
WP Smush.it Alternatives
The most direct alternative to WP Smush.it is the other free WordPress image optimization plugin, EWWW Image Optimizer. The plugin functions like Yahoo!'s service except it can pull from your local server to optimize the images when you need.
No external services or servers to worry about.
How to use EWWW Image Optimizer
You use EWWW Image Optimizer like you would install any other plugin on WordPress.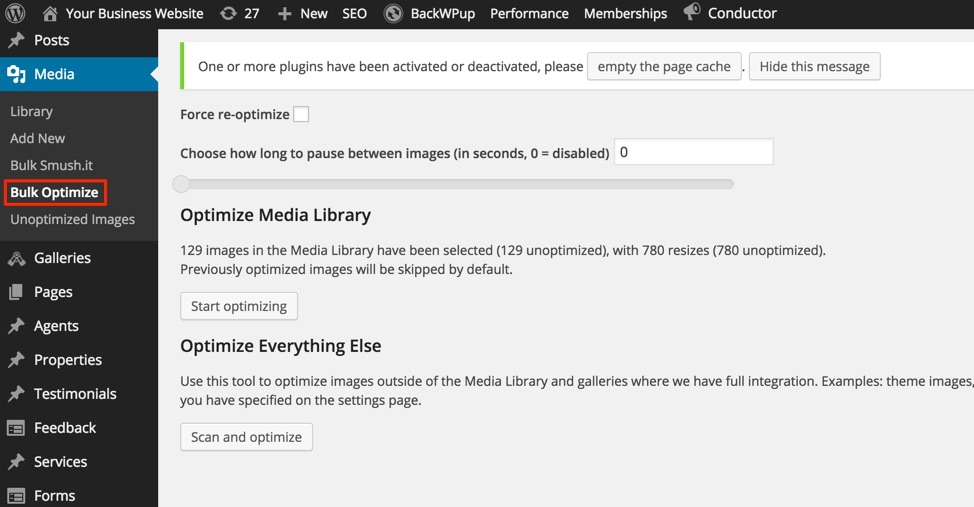 Once the plugin has been installed you can tweak the more technical settings by navigating to Settings > EWWW Image Optimizer on WordPress.
If you just want to use the plugin to compress your existing images, you can go to Media > Bulk Optimize and start optimizing all of the images on your website. You can also scan for new images that need to be optimized if you just switched over from Smush.it (image above).
Optimize images on Mac or Windows
Beyond WordPress plugins and solutions, there are lots of options that you can use outside of WordPress to optimize your images before you upload them to your WordPress website.
ImageOptim
ImageOptim is a free image optimization plugin you can download for Mac that allows you to easily drag and drop photos or folders of photos into the program.
What ImageOptim does is create new, optimized versions of your photos exactly where they were in your folders and sends the original version to the Trash. You can upload these new photos to WordPress.
Apple Preview
Using a Mac? Did you know that you can use Apple's built-in Apple Preview application to reduce the size of images?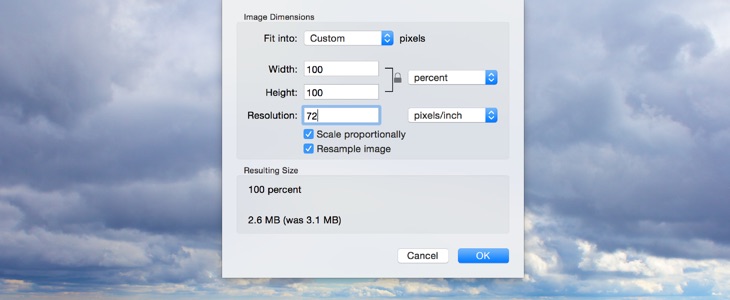 Simply go to Tools > Change Size… and change the resolution to 72 pixels/inch. You can also adjust the size of the image to fit in your website's container in width or height. You can also go to File > Export and change the file type and quality (hint: use JPEGs at medium quality).
RIOT: Radical Image Optimization Tool
If you are using a windows computer, the best free image optimization tool is RIOT: Radical Image Optimization Tool, which can be downloaded here.
Using this tool you can resize an image, change the file format of the image (GIF, PNG, JPEG), and optimize the image. You can also batch optimize like in the ImageOptim application.
Optimize your WordPress website again!
Looking for more information about how to optimize your website? We have a complete look at WordPress optimization tips, including image optimization at this resource.
Check it out and make sure to download the complete checklist you can use when building your site or client sites!
Know of any other great software or have questions? Leave a comment below!