You can't compete with Zillow. Forget about tackling Trulia.
It is frustrating to perform a Google search only to find that the first three pages of real estate searches have nothing but links to these juggernauts.
So how do you make a real estate website optimized for the front page of Google? You have to bypass the sterile and generalized content of these major players and do more creative things with your WordPress website. We provide effective SEO for commercial real estate, ensuring higher rankings and increased online visibility. Here also are some real estate website ideas to optimize your website for SEO and make your website better than the local competition.
Table of Contents:
1. Practice local SEO
The only way to get past the "Trulia"s and "Realtor.com"s of the world is to go around them entirely.
The way you do this is with good local SEO. While we have a full article devoted to practicing local SEO, let's address some of the things you can do from a Real Estate point of view.
Make a Google Places account
One great way to hit the front page of Google is with a Google Places account. Once you have created this free account and had Google mail you a code to verify that you own the business at the specified address, your website will appear in the "7-pack" or "3-pack" on Google. This is the place on Google that displays contact information for local businesses as well as website details.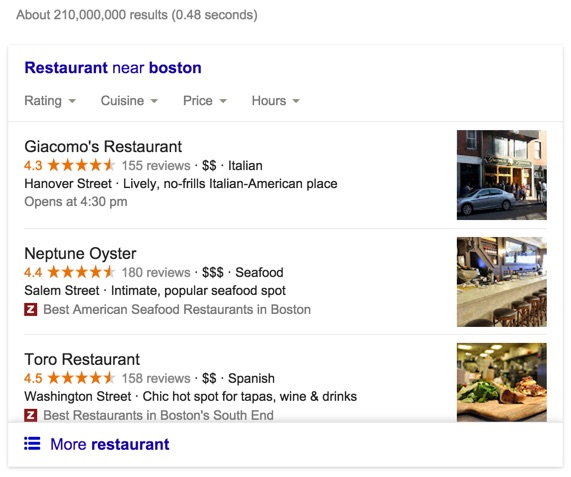 With a Google Places account set up properly, you will have more opportunity to get traction on the front page of Google.
Optimize keywords for local places and activities
Rather than focus on addresses and town names, focus on events, activities, and local areas when developing content structure.
Content based on the area you are in will get you eaten alive by the large fish in the real estate website sea. But sites like Zillow aren't as expert in local happenings and areas.
Example) Don't focus on the city of Newport, RI. Focus instead on a particular area like the naval base, Newport Mansions, etc.
We will touch upon this more in idea number 2.
Local link building
Link building is something that made a resurgence with one of the newest Google updates, "Google Pigeon." Focused on local SEO, the update to Google's algorithm made local link building possible again.
When it comes to link-building strategies, the debate between niche edits vs guest posts is a common topic among marketers and business owners. Both methods offer unique advantages for improving search engine rankings and driving traffic to your website. You may want to visit a site like moneyempire.io to compare and contrast these two link-building strategies to help you decide which one is right for your business.
However, what is local link building?
Simply put, local link building allows you to create directories of links to other local websites that are not direct competitors to yours. On a real estate level, this might include links to pertinent area information, like:
school district websites
park websites
beach websites
attraction websites
event websites
…and more so that people understand you are the source in the area.
To do this, you can make a new page called "Things to do" or "Places to go" or "Directory of" your area and place a bulleted list of places with links to them. Publish that page.
This has two advantages. First, it allows you to share links with other websites by asking them to link back, which increases your technical SEO (the more external links, the better). Second, it makes you appear like an authority of the area, which helps build trust with your potential buyers.
2. Talk about the location, not the property
What is the better headline for a listed property?
A. 55 Dead End Drive — Dartmouth, MA
B. Beautiful home near Dartmouth public schools
If you answered "B" then you are absolutely correct.
People won't look to your real estate website for a specific address. They will come to your real estate website for features, a solution to a problem, or proximity to certain areas.
The title is one of the most important elements of your entire property listing. If your WordPress theme is developed properly, the titles of pages and properties will will be the Header 1 tags of the web page.
Make sure that the title of your property solves a problem instead of displaying a basic address. This is another way to get on the front page of Google over the other guys. Zillow will have "homes for sale in Newport", but they might not have "historic waterfront property near The Breakers." This is your opportunity to swoop in and make the sale.
3. Include all necessary information about the property
All that being said, once the person finds your location, you will want them to stay on your site. One great way to do that is to include all information possible about the website.
By using WordPress real estate website tools like the Easy Real Estate Plugin and Modern Estate to display property information
Having people remain on your site is good for Google and SEO because it increases your average page duration.
4. Take team photos
You will notice that trust is a major part of the discussion here. Depending on the type of sales you or your team performs, there may or may not be a negative perception of the "real estate agent" or agency.
One common theme on many sites is the use of stock photography from a site like Shutterstock to be used on major landing pages of a WordPress website.
Considering that people might be sick of the sales-jargon of agents and want a team they can trust, consider displaying professional photography of your team to alleviate some of the stress in clicking the contact link or filling out the contact form.
Quick tip: Consider using the color blue as it helps to convey a sense of trust with the customer.
5. Record video content
If you are even more ambitious, you might consider making video content or trust videos to sell your product further. Even a simple video series can help sell your knowledge and expertise to prospective buyers.
If the you are worried about the budget, consider the sale of even one or two extra houses after the implementation of trust videos and photos. There is a always a cost involved with an effort to market your business (time and money), but the extra trust these efforts convey make up for it.
6. Set up call-to-actions to get your website up and running
The person has found your website on Google, they have watched your videos, read your blogs, and even looked at some local property of interest to them.
Now what?
All of the attention in the world is great, but now you want to convert these leads.
To do this, use a WordPress theme that features good call to actions and use contact forms to allow people to get in touch with you via phone or email. Here are some awesome tools to add to your WordPress tool belt to convert traffic into leads and then sales:
WordPress Live Chat with Zopim
Zopim is the plugin we trust to do live chat. If you have a spare agent or have time to include live chat on your site, this is a great way to immediately get in contact without resorting to a phone call and without requiring yet another step on the user's part. The user sees a property they like and gets in contact with an agent immediately.
The user does not have to get a phone and dial if they are viewing the site on a desktop.
Zopim is free to start with other packages offered and can be downloaded here. Additionally there is a free plugin that can be downloaded from the WordPress repository to easily add the Zopim chat service to a WordPress website.
Contact Forms with Gravity Forms
We have previously published articles dedicated to setting up Gravity Forms on your WordPress website. While Gravity Forms costs money, it is very easy to use for beginners.
Still, we wanted to provide a few unique nuggets of information for how to implement the contact form on a WordPress real estate website.
Less is more with contact forms
A good rule to follow with website contact forms, especially on real estate sites, is that less is more with contact. The less information you require a user to enter. If you simply request a name, phone number, email, and comment, it will be better than if you place additional questions on the form.
If you get rid of the email or phone number, you should see the number of responses increase.
Track page location on Gravity Form submission
Here is a bit more of a complicated yet effective tip for Gravity Forms setup. By default, contact forms will merely email you notification details that the customer entered. For example, the email notification you get will give you their name, number, comment, etc. Then you can reply to that email.
But there is more you can add to get the most out of your contact form.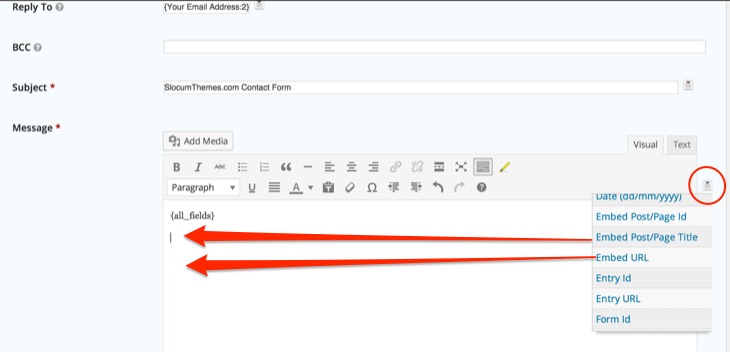 Go to your "Form Settings"
Navigate to "Notifications" within the settings
In the admin notification content, click in the content area
Click on the box to the right of the visual editor
Choose items like "Embed URL" and "Embed Page Title"
What this does is informs you what page the customer was viewing when they decided to contact you. If you have a contact form on every page in a sidebar, this will begin to give you a good sense of what properties, pages, or blog posts are getting people to take action.
Leadin
Similar to the above fixes for Gravity Forms, a new plugin and service called Leadin allows you to hone your forms and find out who is the most active visitor to your site.
With Leadin, once a person makes contact, critical information is stored about their journey. What pages they go to, what actions they take etc. You can use this information to fine tune your pages and add special call to actions or more information to other pages.


Modern Estate Pro
Beyond the plugins, you want to make sure that your theme has ample opportunity to convert.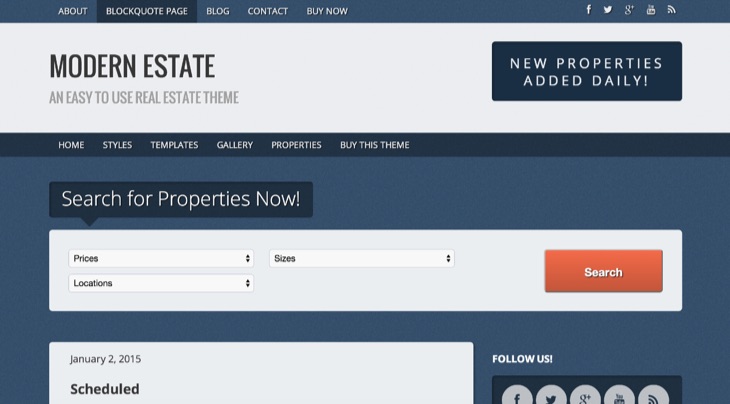 With the Modern Estate theme, you are given the ability to display call to actions in unique areas like the header and footer and are given unique front page widgets to set call to actions like Featured Properties and Search areas to drill down search by whatever you would like (example: number of bedrooms, number of bathrooms, square footage)
Try Modern Estate Free to get an idea and upgrade whenever you would like.
7. Create helpful real estate blog posts that convert
It cannot be stressed enough. The more you blog, the more attention you bring to your website.
Having text content that taps into major keywords of your site is always a good idea. If you can start a blogging plan and use services like Trello to organize your thoughts, you are taking the right step in getting more exposure on Google and making your brand the authority in the local area.
Some examples of blog posts for real estate would be:
What color to paint your walls
15 Home buying tips
What times of the week to hold an open house
How to get a good price for a home in Newport, RI
These are all generic, but they give you a good idea as to where to begin with writing blog posts. Set a schedule, create some blog content, and you should start to see an increase in the amount of organic search results you receive.
8. Optimize your WordPress website for keywords
On the more technical side, you will want to optimize the site. While we have a more in-depth look at optimizing your site, you can certainly start with adding more optimized text to your site, including:
Title Tag
Tagline/Slogan
Meta Descriptions
SEO title
Image Alt Tags
H2 and h2 tags with keywords
The title tag and tagline can be accessed and changed from WordPress Settings > General.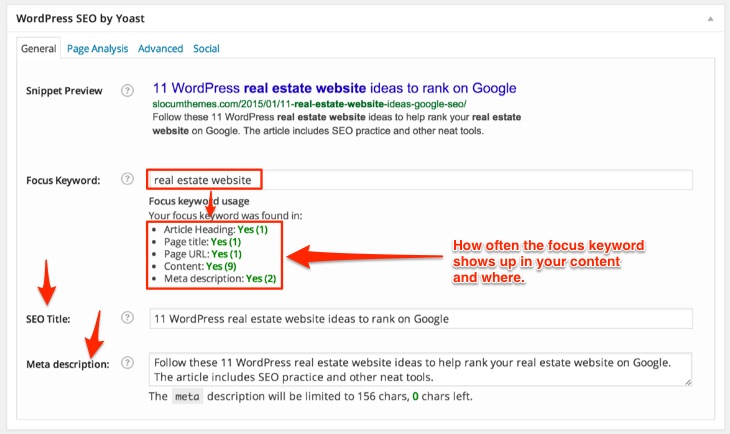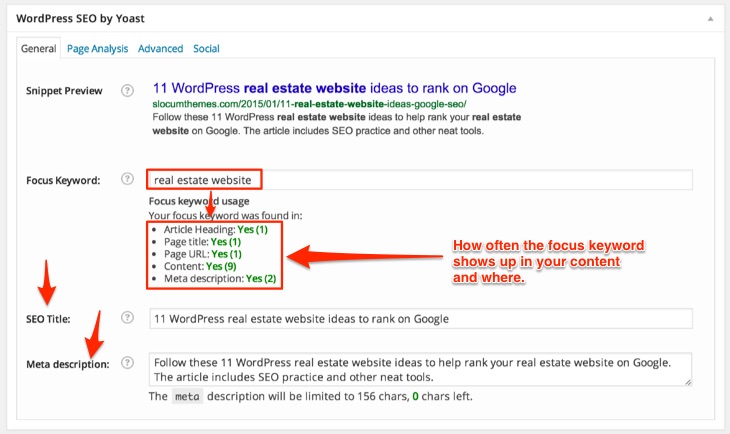 Meta-Descriptions and SEO titles are most easily created in WordPress by using the popular WordPress SEO by Yoast plugin, which creates a box below the content editor with which you can optimize keywords and set SEO title and Meta-Description.
Image alt tags can be added by typing in keywords to the field called "Alt".
9. Focus on Long Tail Keywords
When you are creating these keywords, a tip you want to pay attention to is making the keywords "longtail keywords." Here is the difference:
Normal keyword: "property" or "newport properties"
Longtail keyword: "waterfront property in Newport"
Longtail keywords are just that — long. The benefit of a longer keyword is that it is easier to beat competition with searches that are more specific. There might be thousands of websites with the keyword "property" and hundreds with "Newport properties", but if people are looking for "waterfront property in Newport", you will want to bolster your searches from there.
Focus on longtail keywords to optimize the smaller amounts of qualified traffic that are looking for your exact keyword and use tools like Google Adwords to see if it is worth your time to optimize the keyword you have in mind.
10. Go social
Sharing content is really important. The more people you have sharing content, the more eyes are seeing your page. If someone shares your content with their group of friends, that is on average a couple hundred more people who are seeing your content.
The virality of content is enhanced by simple social media share buttons.
A great and easy way to get people to share their content is through the Jetpack plugin and the "Sharing" add-on. With the Sharing add-on activated, you can go to Settings > Sharing and drag and drop different social media channels into the box. Once you have done this, the buttons will displays below every post on your site, so that people can easily share them.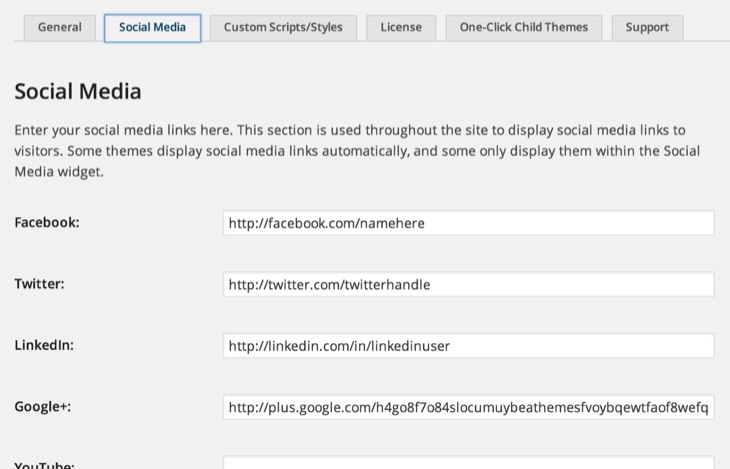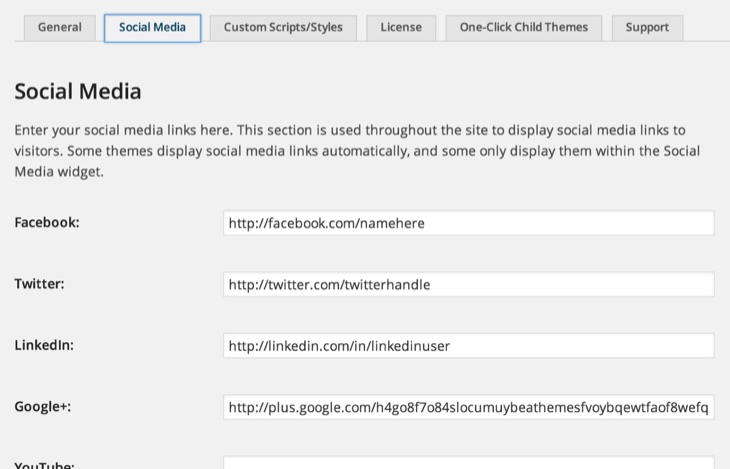 Additionally, our themes feature social media page buttons. If you want people to visit your social media pages to like and share your page (versus sharing your content on their own channels), this option is provided on Modern Estate.
Go to Appearance > Theme Options > Social Media and enter the link for each social media channel you want to include.
Once you have done this, go to the widgets section and drag and drop the Social Media widget wherever you would like to display your buttons in that section.
Featured areas include: primary sidebar, header call to action, footer, front page
11. Have good front page action items
When people land on your site, they may very well make it to the front page of the site, which is the most commonly visited page on a site. Make sure that you site has neat features for real estate to convince people to continue using the site.
Some ideas include:
Call to action in the header or front page to contact or call your real estate agency
Real Estate searches to filter results by items like bedrooms and bathrooms
Featured listings to showcase the listings that may be most desirable
Featured blog posts or pages
Contact forms
Trust videos
With Modern Estate, you are given the options to display all of this content on the front page of your WordPress website. Modern Estate uses a unique "Front Page" widget area and, with the help of documentation and a free plugin, the ability to display these elements on the front page of your website.
Build the ultimate Real Estate website
Now that you have these tips and information, it is time to build the best WordPress real estate website that you can. If you have any questions or would like help implementing your WordPress website, please let us know in the comments below.