A DOT COM is one piece of a brand's puzzle. Add social media buttons to that website, and you have personalized the experience for the customer.
Most websites have links to their various social media channels in the header, footer, or sidebar so that it is always easy for users to check out their Facebook, Twitter, TikTok (look over here to know how to increase followers for TikTok easily), YouTube channel, and more.
There are a lot of different ways to share social media, whether it be sharing your site's content with the world, displaying like boxes, or providing links to visit your social media site.
Which user are you? No matter the solution you are looking for, keep reading to discover what plugins and solutions to use to display social media buttons on your WordPress website.
Share your content with the world
One type of button that you might be looking for is the type of button that allows others to share your content via social media.
For example, if I go on a popular site like BuzzFeed and like an article that I want to share, I am given the option to share that content to my Facebook friends, Twitter followers, etc.

There is a plugin called Jetpack, made by Automattic (creators of WordPress) which has a number of options available. One of these options is an add-on called "Sharing" that allows you to place buttons above or below your blog posts and pages that give people the ability to share content with their channels.
With Jetpack installed and activated and with the Sharing add-on enabled, you will want to navigate to Settings > Sharing.
Within the settings panel for "Sharing", you can drag and drop which social media you would like people to be able to share to and decide if you want the social media buttons at the top or bottom of each page or post. On that note, you can also control which pages and posts you want the Sharing functionality to exist.
Post a WordPress blog directly to Facebook or Twitter
If you are still using the above Jetpack solution and have ALSO enabled the "Publicize" add-on you will be able to synchronize your existing social media accounts at the top of the "Sharing" settings.

Using software provided by the developers of the various social media channels (in the picture above) you can connect your Social Networks to WordPress. When you post a new entry in your blog, it will automatically be shared to your friends and followers on the connected social media channels.
Note: Before using Publicize, you may want to check with your server host to see if there might be tech preventing this from working. Publicize supports certain tech like Multibyte support which is not always enabled.
Get people to "Like" your social media pages
Maybe you just want people to quickly like your Facebook page or follow you on Twitter. Using popular plugin Digg Digg for WordPress, you can display top, bottom, or floating side buttons to enable users to "Like" your social media pages. There are all sorts of options to choose from for the display of Digg Digg, so we will let you play, once the plugin is installed.
Want to know how to use Digg Digg in more depth?
Watch this video we previously made to learn all about Digg Digg and other social media plugins:
Buttons to visit your Facebook and Twitter page on WordPress

Floating Social Media Links is a free WordPress plugin that allows you to input your social media websites into your site in the form of pre-generated social media buttons.
From there, you can tell the plugin where you would like the social media buttons to float on your website, so that people can click and be directed to your social media page.
Here is a link to view this free plugin.
How to Add Social Media buttons to your site using our WordPress themes
We use widgets to make it super easy to add social media buttons to the sidebar, header, or footer or any widget area of your WordPress website. Styling is designed to work for whichever theme you have purchased.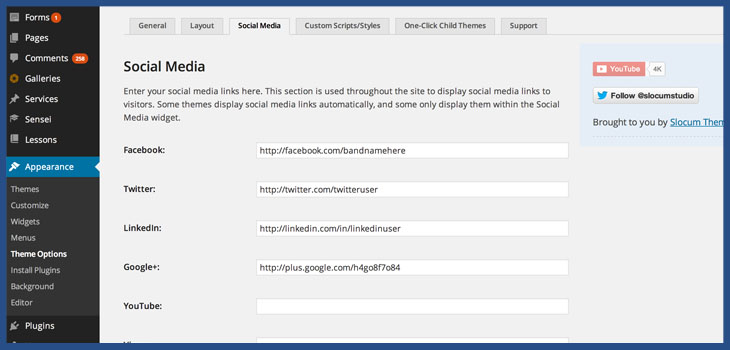 With one of our themes installed, simply navigate to Appearance > Theme Options > Social Media
Once there, simply input the URL of your social media page in the respective place. For example, if you are connecting Facebook to your WordPress site, you would type: "http://facebook.com/yourpagehere" in the section for Facebook. Repeat this process until you have maximized the number of social media channels that you would like to include and click save at the bottom.
Our recommendation? Don't include too many social media options. While it is easy to get excited and add all of your social media channels to your site, having too much can create confusion for a customer. Use your best social media sites. If you have a strong Facebook or Twitter presence, pursue those exclusively. Have a great YouTube channel? Go that route!
Now, to display them, it is as easy as dragging and dropping a single widget…
WordPress widget to add social media buttons
Once you have input the URLs for the social media buttons that you want to include on your website, it is very easy to add them to your website.
We have a widget built into our themes called "Social Media Widget". You can even add your own title. Simply place the widget into a sidebar, footer, or header area and our themes will smartly display the social media you have entered in those respective places!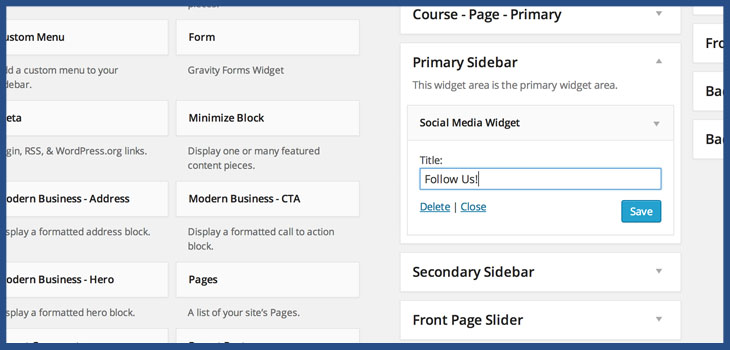 The look will differ depending on what theme you have chosen, but will always mimic the look of the rest of the site and the theme in which it exists. COOL STUFF!
Social networks supported out of the box:
Facebook
Twitter
LinkedIn
Youtube
Google+
Vimeo
Instagram
Pinterest
Flickr
Foursquare
RSS Feed
Easy to Add Social Media Buttons are supported by these themes:
Set up social media buttons on your website
With this tutorial complete, you should have all you need to post social media buttons of any kind on your WordPress website. If you have any questions or comments, leave them below!