Get your front-of-house product on the front page of Google
Having an eCommerce website that is not optimized for Google is like having a store without a sign, window, or door. The products are there, but there is no way for a prospect to find your content.
The web is the place to sell your product. Whether it be physical or digital, the first place someone may go to look for a product is the web. This may be to find a local product offering or to purchase a product at a better price.
All of your product may be on the website, but if nobody can see it on Google, then what's the point of putting it there?
We will also use the popular WooCommerce eCommerce plugin as a backbone for how to add and optimize the content on your WordPress eCommerce website.
Table of Contents:
Optimizing eCommerce content for SEO
Better eCommerce SEO begins with the content that you have on your page. Google does not have a "personality filter" or a "daydream algorithm." At the end of the day, people are still going to be searching for your content using text and keywords. It is important that you choose and implement the right keywords on your page. But how do you do that?
1. eCommerce Keyword Tips
When thinking about keywords for an eCommerce site, you want to ask yourself two questions:
Are my keywords unique?
Am I using long-tail keywords?
Creating unique keywords is vital to appearing on search engines and optimizing content on an eCommerce site. If you sell winter coats, for example, simply including "winter coats" as your focus keyword will NOT be enough. Use tools like Google Adwords to find better and longer strings of keywords that people are looking for.
When you create keywords that are longer, like "pink North Face winter coat," this is an example of a long-tail keyword. Quite literally, this is a keyword that is longer and has more chance of appearing on the first page of a Google search. Including this long string of text in more places helps to ensure that if someone is looking for a "pink North Face winter coat" that you will be more likely to appear.
Make your website more exclusive in a sea of clones
You are not one of 1.3 million sites trying to rank for "North Face" or "Winter Coat". You are an AUTHORITY on the "pink North Face winter coat" and people are more likely to find your site for that specific product.
2. Title Tags
As for where to place these keywords, let's start from the top of a WordPress post, page, or product and the most important place to put your keywords — the title tag.
On SEO optimized WordPress themes, the title tag or H1 tag of the page will be associated with the title of each page or post. It is important to include your entire long tail keyword in the title.
If you are selling "Chunky Basil Tomato Sauce" on your eCommerce website, you will want to make sure that you include at least that text on your product's title.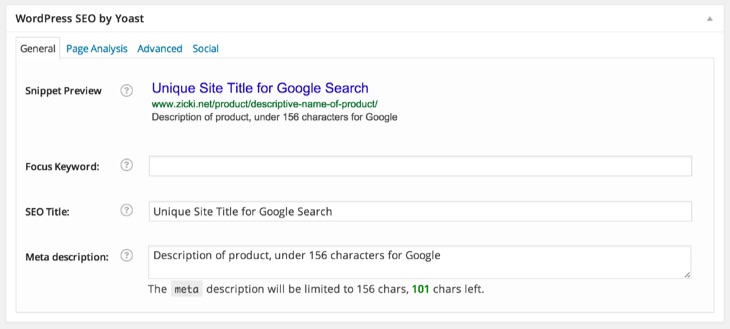 Additionally, you will want to install WordPress SEO by Yoast to maximize the SEO title for Google's search engines as well. With this tool, you can optimize the Site Title to make it display differently on Google's search engine. Perhaps you add some "Buy Now" text to your Google site title so people know they can purchase your product from that link.
3. Descriptive text SEO
Underneath the title of the product is an area to write some information about your product. In this area, you can enter more detailed information about your product.
This is NOT to be confused with the short product description, which displays at the top of the product page. This information is optimized 
This information should feature your focus keyword in multiple places and in the first sentence of the description. There should also be a lot of text and maybe some testimonials or custom written reviews on the product in this area to flesh out the content and add value to the product.
The more time you put in to the content, the more attention the content is going to get on Google.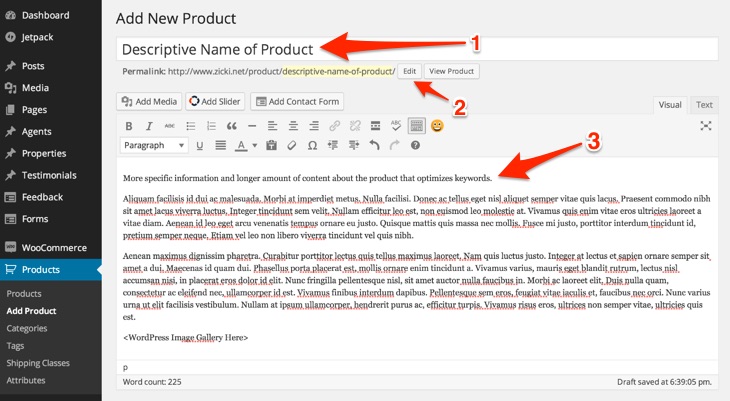 4. Other areas on WordPress to optimize your keywords
Above is an image showing where to put keywords in the main content of your website, from title tags to description. Here is a complete list of places that you will want to put your eCommerce keywords: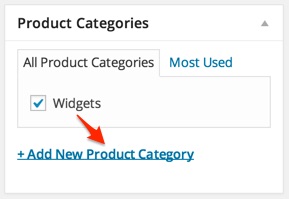 Title tag (item #1 on the image)
Site permalink (item #2 on the image)
Main content or description (item #3 on the image)
Short product description (WooCommerce feature)
Meta description (also editable on WordPress SEO by Yoast)
Image "alt-text"
Image captions
WordPress and WooCommerce tags and categories
5. Optimize the short product description of WooCommerce
The product description, in WooCommerce terms, is the content that appears on the top of the page. This is where you would display quick information about your product, including your keywords!

One awesome tip we picked up from the Nielsen Norman Group involves keeping your content concise and comparable.
Keep the content here limited to the keywords you want to use, perhaps a sentence or two more, and then bulleted information on the product.
If you are selling 30 different t-shirts, make sure that each t-shirt has the same bulleted items in the same place (material used, sizes offered, available colors, etc.). This allows people to weave through your site. As the referenced article suggests, these small changes could increase conversion by almost 20%
"Which shirt should I buy?" is better than "Should I buy this shirt?"
6. Blogging
Another great WordPress eCommerce SEO tip? Create a blog for your website and update it regularly.
The more content you have outside of your product offerings, the more chances you have to grab customer attention from a Google search and get them on your website, where you can then sell them on your products.
Imagine that your business sold skateboards online. Here are some potential winners for blog ideas:
Skateboards versus longboards
How to build a skateboard
Choosing the right wheels for your skateboard
Black Label "Super Mex" skateboard review
Use services like Trello to create lists of blog ideas on your website so that you always have something fresh to write about.
If you're going to get serious about blogging, make sure that your WordPress theme has plenty of different Widget Areas to place relevant call to actions to get people to move from your blog post to a product or a shop page with many of your products.
7. Optimize page load speed of eCommerce
Think about the last time you were at a grocery store waiting impatiently for the one cashier to ring your items. You stamped your feet, found the next aisle or self-checkout aisle and went over there instead.
The web is THE SAME WAY.
The more time — and we are talking fractions of a second — that a user has to wait to load your page on their computer or cell phone, the less likely they are to stay and buy your product.
Make sure your WordPress theme and plugins are lightweight so that they do not take long to load. Also make sure that the host you choose is going to allow for your website to load quickly from the server.
If you are unsure how your website is performing, consider running a test on your website using a service like GTMetrix to see what the page load speed looks like. If it is more than 3 seconds, your site is either very complicated or needs to be optimized so that users stay on the page and buy your product.
eCommerce image optimization for SEO
The motto that visuals sell should not be taken lightly. We have found that the more attractive an product image or product video looks, the more likely a customer is to take action and purchase.
Follow the tips below to optimize your images for the web and make your offering too attractive to pass up.
8. Take good quality photos!
This may sound like a no-brainer, but make sure that your image are attractive. Hire someone to take professional photography and edit your images in a program like Photoshop to make your product look good.
All of this being said, make sure that the images are optimized for the web.
Any product featured image or other image in your WordPress gallery that is larger than 100KB is probably too big and will make your eCommerce SEO suffer.
9. Regenerate thumbnails plugin
If you are using the free WooCommerce plugin to sell product on WordPress (recommended), you might notice that images appear blurry in product galleries.
This is a feature of WooCommerce to save on page load speed, but it can also make your images look unappealing. To fix this, there is an image regeneration WordPress plugin that can be downloaded for free to alleviate the problem.
Download "Regenerate Thumbnails" from the WordPress repository and install it on your site. Run the program through your existing images under the Media sidebar section of WordPress. This will revert images to an acceptable thumbnail size.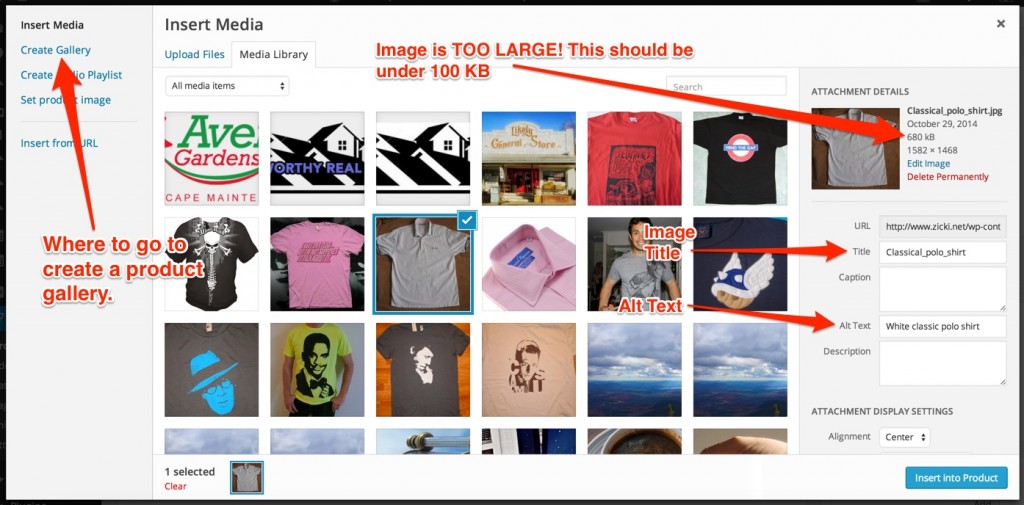 10. Optimize alt text for eCommerce
When you upload and attach images to your product, keywords are involved here too!
With images and the web, the places to optimize the keywords are in the Title and Alt Text. Make sure that your originally uploaded file has a search engine optimized name and make sure that you create "Alt Text" that also taps into the long-tail keywords you want to rank for.
11. Galleries
Galleries are a great way to show more views of a product.
Thankfully, WordPress has a built-in gallery feature to allow you to upload and display multiple photos at once. To access the gallery, go to Add Media > Insert Gallery while editing a Product in WooCommerce.

WooCommerce also has a separate window (pictured above) to create a "Product Gallery" that will display on the front page of your site like you would see on a traditional eCommerce website.
Rich Snippets
When selling products, it is also good to allow for deeper categorization of your product, including product reviews and other textual information about your product (categories, etc.). We accomplish this with textual tools know as schema. On WordPress, there is a plugin called All in One Schema.org Rich Snippets that allows you to add this text

12. Add Product Reviews and Star Ratings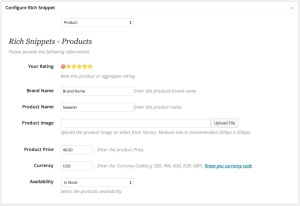 With the plugin installed, a new window will appear on the WordPress product, page, or post editor that will allow you to add Schema rankings to that content (this also works for things like external reviews)
Among the items you can address with the plugin are:
Star rating
Product Name
Brand
Price
Currency
Availability
13. eCommerce schema
Make sure that your schema information matches the information in the product description with WooCommerce and WordPress and people will be able to see an accurate representation of the content before and after they click on the link in Google.
Schema provides you with a look at the product from a Google search, enticing you to click and find out more information.
14. Share your products on social networks
Another awesome way to get attention to your site is to go social with all of your products.
You can use the popular free Jetpack plugin and the "Sharing" add-on included with it to add social media share buttons to all of your product pages. Jetpack "Sharing" can automate the website so that you can instantly share content that you post on WordPress to your Facebook and Twitter accounts as well.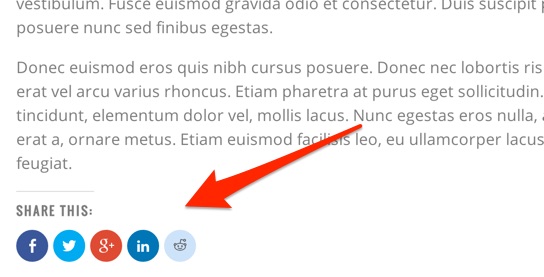 Think of all the exposure even one share on Facebook or one pin on Pinterest can get! Make sure all of your product pages feature share buttons so that people can share their positive shopping experience with the world.
15. Make your eCommerce site Mobile-Ready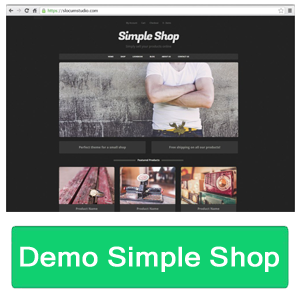 This should have been number one on the list, but it can be among the more time consuming options on the list, so we saved it for the bottom.
More and more people are buying products on mobile devices, with many industries approaching an almost 100% increase in mobile sales last year (2014). Making sure your site is mobile ready and designed to convert sales is critical to the shopping experience going into 2015 and beyond.
Make sure that the WordPress theme is responsive or mobile ready.
Did you know? Going into 2015, Google will be checking your website to make sure it is mobile friendly. Optimizing this will actually impact your search rankings as the search engine will rank mobile-ready websites more highly.
16. Building a Landing Page for Checkout
It has been proven that people love putting product in a shopping cart just to have it in their "possession" momentarily. They will dream and then click off somewhere else.
Can you blame them? Putting the product in your cart was an impulse from the start. And now you can go back to other products, compare, visit a blog, click an item in the sidebar, etc.
Make sure that major sales landing pages are displaying on either a "Full-Width" or "Landing Page" template.
Full width pages have no sidebar, but include a header and footer for navigation
Landing pages (best for a checkout) have nothing except for the content on the page
Using these templates prevents users from finding easier ways to click off the checkout page and results in more sales.
Want a quick case study? We simply changed to a full width page without a sidebar for one of our theme offerings and conversion increased by over 3%. The change was simple and increased sales!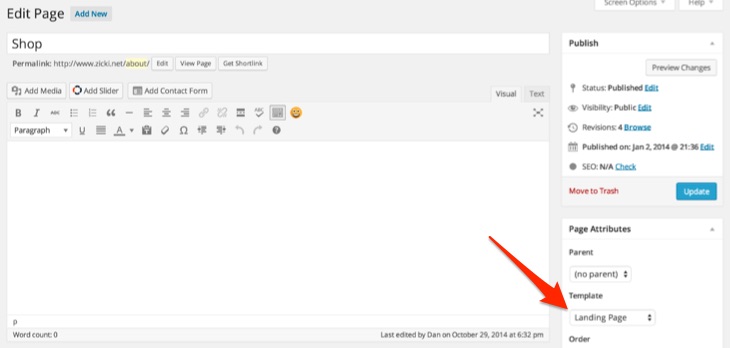 To create a splash page in full width or landing page templates with our themes, you can select the type of page you would like it to be from the sidebar as you edit content.
17. eCommerce Local SEO and Link Building
There are plenty of businesses out there that cannot ship product for various reasons but would love to have a better eCommerce presence to allow clients to place online orders for pickup or delivery.
This falls under the category of local SEO, and there a few tips you can use to optimize your site for your local area:
Focus keywords around the location (city/area of the world/popular local venues)
Set up a Google Places profile and keep it updated
Set up and maintain a Yelp! profile
Share your newest product offerings on social media
Link your site with complementary or friendly businesses in the area.
Get involved with local events and ask to share site links
Get a WooCommerce theme and start optimizing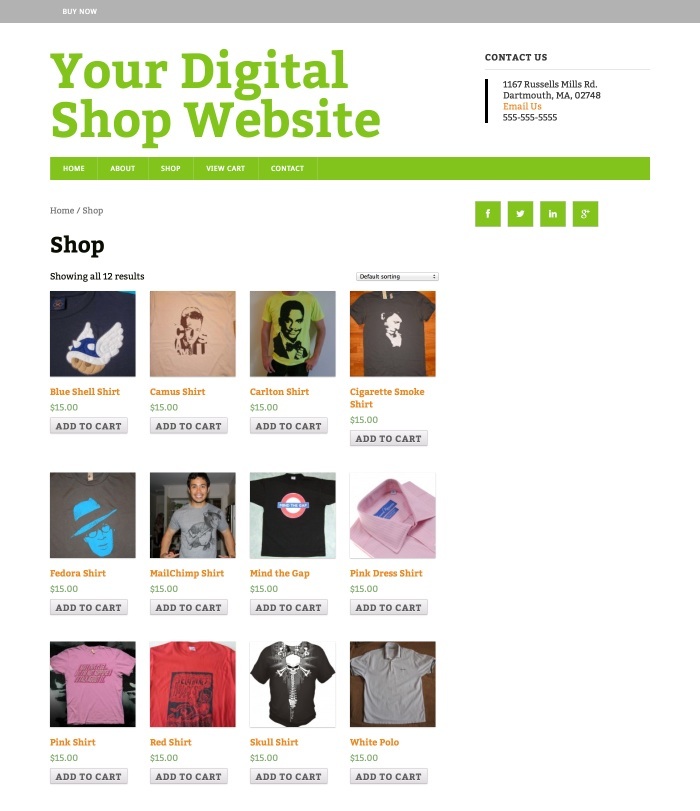 With all of these tools at your disposal, you should be confident in developing your site and increasing your conversions.
Install our themes (styled to work with WooCommerce)
Set up WooCommerce to sell some products
Follow these tips
Watch your sales numbers increase.
Cut to the chase!
Here is a video going over many of the elements discussed on the page from our SEO Lunch series.
If you have any questions or tips, please get active below in the comments!